White Center real estate: First homes sold at Greenbridge, says King County Housing Authority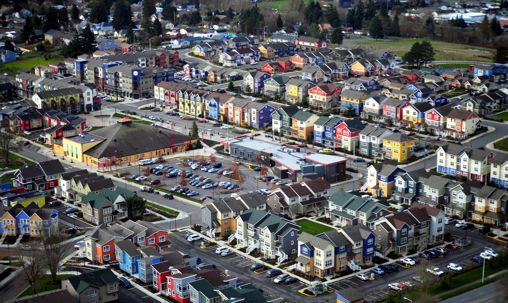 The aerial view of Greenbridge is courtesy of West Seattle pilot/photographer Long B. Nguyen, who often shares spectacular views with our partner site West Seattle Blog. In this case, his image of Greenbridge landed in our inbox about the same time we received a note from King County Housing Authority project manager James Rooney, announcing a milestone – the first homes sold at Greenbridge.
The development's status had been a source of some controversy with local community activists, since it was intended to be more a mix of owned and rented homes, like West Seattle's High Point. Last fall, construction of the first seven homes intended for sale began at 8th and 100th. And now, Rooney tells WCN, they're done, and sales have closed on four of them, with one more under contract, leaving two up for sale. He adds, "Although these homes are available for all buyers, HomeSight is offering up to $45,000 in down-payment assistance to buyers earning up to 80% of area median income." (In case you're househunting – here's the official flyer.)
You can follow any responses to this entry through the RSS 2.0 feed. Both comments and pings are currently closed.