Burien council sets date for considering whether to proceed with North Highline annexation election
Just in from tonight's Burien City Council meeting: They've set April 2nd, their next meeting, as the date to "consider" whether to proceed with an annexation election. Under a timeline set out by city administration, they would have to decide either then, or April 16th, that they wanted an August 7th election, in order for that to proceed through the system in enough time for that to happen.
Addressing one ongoing concern, City Manager Mike Martin told the council he has sought repeated assurances that the sales-tax credit will remain in the state budget – and so far, it's still there. Burien says that money is vital to being able to afford the annexation. (At one point, Governor Gregoire had proposed cutting it, but that proposal stalled.) Councilmember Jack Block Jr. wondered what the latest date for a decision would be if they were seeking to put annexation on the November ballot instead of the August ballot.
During the public-comment section at the start of the meeting, 12 of the 15 speakers talked about annexation – seven against, five for. Among the pro-annexation speakers was Vera Johnson, proprietor of Village Green Perennial Nursery: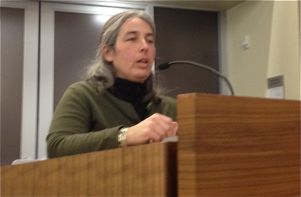 She said she decided at the last minute to show up and speak; she believes it would be overwhelmingly positive for Burien to annex White Center. We have the entire public-comment period on video, along with the discussion on the annexation item, and will add those clips as soon as they are uploaded following our crew's return to HQ.
ADDED 11:12 PM: Here's the video from the public-comment period. It is unedited, starting with the second speaker during that part of the meeting, the first one to address the annexation issue, and continuing through the last speaker, who also talked about annexation:
At about 34 minutes into the video, Barbara Dobkin speaks to the council for, she said, the first time as North Highline Unincorporated Area Council president, recounting the council's support for annexation, and its accomplishments in recent years, including advocacy on behalf of concerned residents dealing with difficult issues.
You can follow any responses to this entry through the RSS 2.0 feed. Both comments and pings are currently closed.