White Center Triangle Veterans' Park: Your re-dedication invitation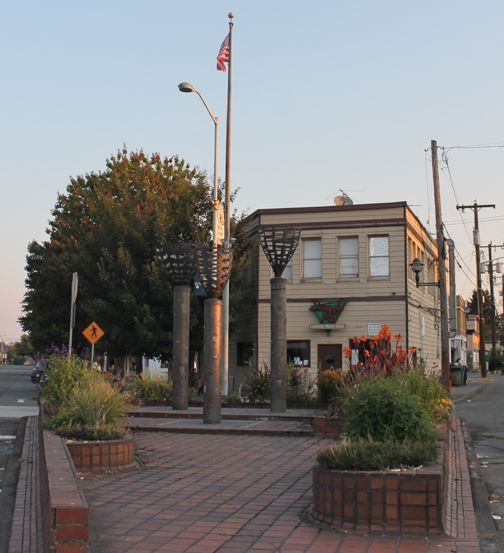 (Photo taken this morning by Patrick Sand for WCN)
On this tenth anniversary of 9/11, tribute is being paid not only to those lost on that day, but to those who have served, before and since, to keep our country free. The White Center area's most visible tribute is days away from rededication, and Mark Ufkes has shared the invitation to all veterans – and the rest of the community – for the event one week from today:
Calling all Veterans! There will be a re-dedication of the White Center Triangle Veterans Park, scheduled for Sunday, September 18 at 4 pm. Veterans and the entire community are invited. We have invited Medal of Honor Recipient Joe M. Jackson from Kent to help us install a new American flag, a plaque, and re-dedicate the park.

The park is located at the corner of Roxbury, Delridge and 16th Ave. SW. in White Center. (9200 Delridge). The park and flagpole were dedicated well over two decades ago by the now defunct Glendale White Center Veterans of Foreign Wars. The White Center Chamber of Commerce, working with Seattle City Light, installed flagpole lighting at the site and use the site each year to install the White Center community christmas tree.

A new plaque will be installed, and we will acknowledge the installation of lighting to allow the Chamber to fly the flag legally 24 hours per day at the park. The plaque will read;

Re-Dedication
Veterans Triangle Park
To all who have served
our American Flag

White Center Chamber of Commerce, Sept. 2011

All veterans are invited and we ask veterans to wear part of their uniform if possible. Light refreshments will be served.
You can follow any responses to this entry through the RSS 2.0 feed. Both comments and pings are currently closed.