Let the construction begin! Groundbreaking for Technology Access Foundation's 'Bethaday Community Learning Space' in White Center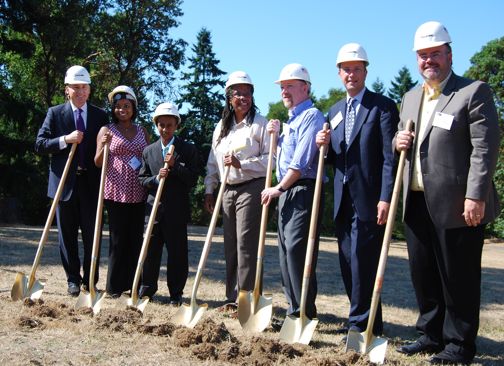 (From left: Dow Constantine, King County Executive; Miya McClain, TAF Alum; Biruk Araya, TechStart Student; Trish Millines Dziko, TAF Executive Director; Ken Birdwell, Valve Philanthropist; Joe McDermott, 8th District King County Councilmember; Alan Spicciati, Highline Interim Superintendent)
Story, photos, and video by Deanie Schwarz
Reporting for White Center Now
The Technology Access Foundation's long-awaited White Center facility has just celebrated its ceremonial groundbreaking.
Dignitaries gathered for the event celebrating the now officially named "Bethaday Community Learning Space" in White Center's Lakewood Park A large gathering of neighbors and dignitaries gathered on a rise of gently sloping green space, a building site chosen with the environmental goal of minimal disturbance to and inclusion within the existing natural surroundings.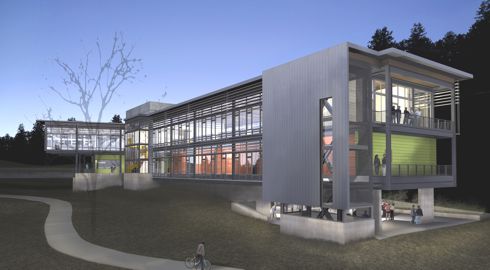 Nearby groves of trees will be preserved for cooling the building, as well as a number of other innovations in design and materials for the energy and water efficient building.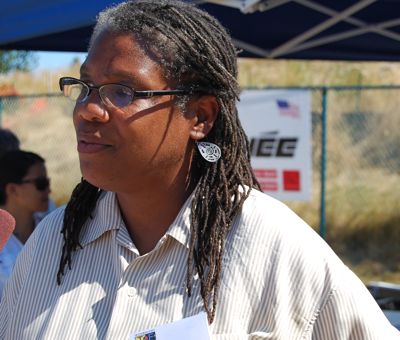 TAF executive director Trish Millines Dziko explained to the gathering that the new official name of the facility is a consolidation of two inspired individuals in education and science, Mary McLeod Bethune and Michael Faraday. Dziko also noted that 92% of the fundraising has been completed and encouraged the participants to support the final efforts to secure the remaining funds as the construction begins.
The 24,000 sq. ft. Bethaday Community Learning Space will create opportunities for White Center community members to participate in computing, financial-planning, job training and other classes, according to TAF; groups will also be able to rent spaces in the building at a low cost so programs can be operated which benefit the community, including out-of-school options.
Ken Birdwell, founder of Valve, and a philanthropist supportive of TAF, told WCN that he is looking forward to coming back to Bethaday in ten years to hire the future engineers he will need in his own computer game industry who will have been inspired to pursue science and technology careers within the Bethaday Learning Community.
Friday's festivities also included performances – here's the WC-based Tanoa Polynesian Dance Group:
For more about the project, check out this webpage.
You can follow any responses to this entry through the RSS 2.0 feed. Both comments and pings are currently closed.