Today/tonight in White Center: Five, count 'em five, events
Looking for an example of this community's spirit and resiliency? Note the FIVE major events scheduled for today – as announced by Nhan Nguyen, who by the way has just announced his departure from the White Center Community Development Association: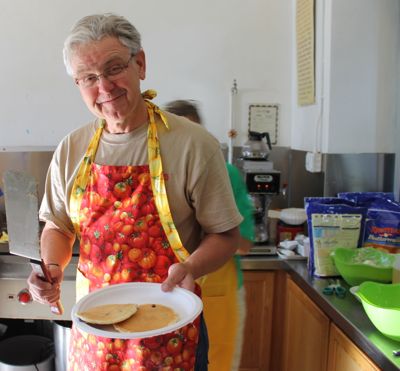 (Added Saturday morning, WC Chamber's Mark Ufkes with the fresh-blueberry pancakes they're making!)
Fundraising pancake breakfast at Holy Family School, 8-11am, organized by the White Center Chamber of Commerce. Proceeds will be used toward replacing the American Flag at the Memorial for Veterans of Foreign Wars in front of the Triangle Pub.

Hicks Lake BBQ at Hicks Lake Park, 11-2pm, organized by Friends of Hicks Lake. A great community event to bring neighbors/friends/public officials together to work for a clean, safe and healthy Hicks Lake Park.

2011 White Center Business District Shop Fresh, 5-7pm, organized by the White Center CDA. The purpose of this event is to raise the awareness of fresh, healthy food available in our six produce markets and three Halal stores in White Center's business district.

White Center CDA Membership Mixer Movie Night at White Center Eagles Hall, 8:00pm. Enjoy a family friendly movie with your fellow CDA Members. You do not need to be a Member to attend, and the event is free and open to the public. You can sign up to be a Member at this event.

White Center Arts Walk, organized by White Center Arts. Come check out art work and performances by dancers, dance troupes, spoken word artists, live painters, street performers and musicians.
You can follow any responses to this entry through the RSS 2.0 feed. Both comments and pings are currently closed.