Got a bike? 'Tunes and Tune-Ups' on the way to Greenbridge next week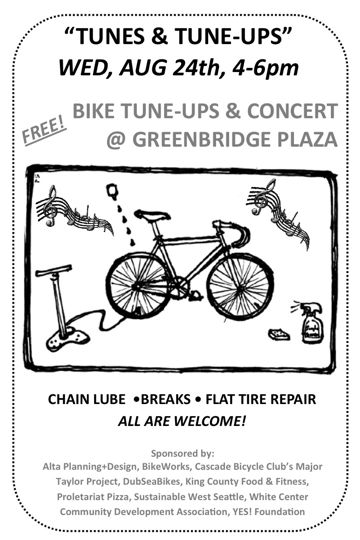 Big event at Greenbridge next Wednesday!
Want to have a more cycle-centric White Center and South Park? We do too! Many organizations partnered to plan this FREE event for families in our neighborhood. Hope you can come to TUNES & TUNE-UPS & pass on the word.

The new date is Wed Aug 24th, 4pm – 6pm, Greenbridge Music in the Plaza Outdoor Concerts. Chain lube, brakes, flat tire repair.

Also, look for a monthly bike repair clinic on Sunday afternoons at Full Tilt Ice Cream, planned for September 2011.
You can follow any responses to this entry through the RSS 2.0 feed. Both comments and pings are currently closed.