Video: Megabanks targeted in White Center protest
WCN contributor Deanie Schwarz says more than 20 people joined in a protest this morning organized by Washington Community Action Network, demanding that megabanks like Chase and Bank of America stop foreclosures, among other things. One of those joining the protest was Vera Johnson, the White Center/West Seattle-area Village Green Perennial Nursery owner whose difficulties in dealing with B of A to fend off foreclosure have been reported this past week by WCN partners West Seattle Blog (story here) and the Seattle Times (Nicole Brodeur's column here). From Chase, where Deanie shot the video, the group walked along 16th to B of A – where Vera is at left in our photo below: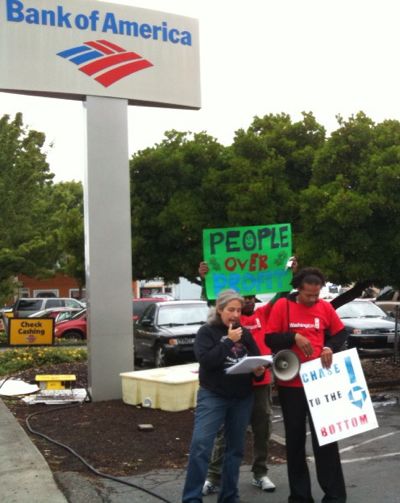 Washington CAN sent a news release after today's demonstration – read it after the jump:
— Families who are in foreclosure, seniors and students gathered in protest outside Chase and Bank of America in White Center. The message of the action was simple: enough is enough; it's time to put human needs over corporate profit. While Chase and Bank of America continue to receive tax breaks, community members are shouldering the burden of the budget cuts.

Between 2009-2012, 132,000 homes in Washington are projected to go into foreclosure. In this recent budget cycle, $129.6 million was cut from Basic Health and teachers are facing a 1.9% reduction in salary. At the same time, JP Morgan Chase is lobbying for $1.4 billion in additional taxpayer subsidies, citing losses after taking over WaMu (Washington Mutual). Since the takeover JP Morgan Chase is enjoying record profits and its CEO, Jamie Dimon, is among the highest paid executives in the nation.

"Wealthy corporations cannot continue to profit while individuals in need are burdened with cuts," says Philip Pantaleo, a resident of nearby South Park. "We need to work together to close corporate tax loopholes so that we can fund programs like Basic Health and ensure that our children have the educational resources necessary to prosper at school."

Philip was one of two dozen community members, parents, and friends who handed out fliers and held a rally outside of Chase and Bank of America in White Center. Vera Johnson from West Seattle shared her personal experience dealing with Bank of America as they try to foreclose on her home and local business (Village Green Perennial Nursery). There was also a street theater skit, which highlighted how foreclosures are affecting families.

The state revenue crisis led to major cuts to education, health care, and other programs that parents, students, and community members rely on. While the most vulnerable and the middle class have had to sacrifice, big corporations have not. Despite the revenue shortfall the big banks spent tens of thousands in Olympia to maintain outdated corporate loopholes, costing taxpayers $167 million every year.
You can follow any responses to this entry through the RSS 2.0 feed. Both comments and pings are currently closed.