White Center businesses: Harlem's World children's boutique now open in Greenbridge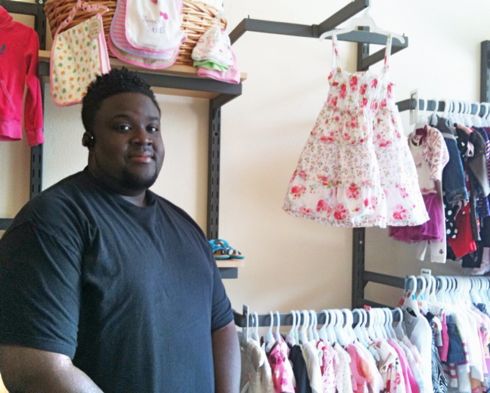 Story and photos by Deanie Schwarz
Reporting for White Center Now
Harlem's World Children's Boutique is one of White Center's newest businesses, open less than a month in a retail space that is part of a live-work unit in the Greenbridge community directly across from the Greenbridge Plaza on 8th SW in White Center, not far south of Roxbury.
Owner Danté Mitchell is a first-time business owner at 30 years old. He is a graduate of the StartZone small business program at Highline Community College and is ready to make his mark as a specialist in new and lightly worn, hard-to-find children's clothing.
Dante shared his vision for his small, nicely stocked store, tucked between the King County Sheriff's Greenbridge Office and another live-work unit housing a hair salon.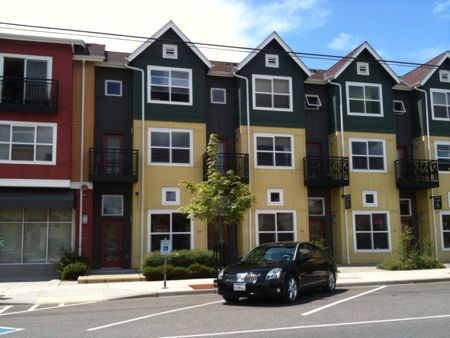 "I just want to bring something to the community that is contemporary and fashionable, but at a reasonable cost to my customers. I know how it is sometimes for kids if you don't have the right clothes or right "look" growing up. Children will tease each other. So I want to provide options to help build the children's self-esteem, so they feel comfortable and confident," he said. "And I want to help the parents as well by letting them know they can spend in a way that is not too strenuous for their pocketbooks for great clothing and merchandise."
"But," he continues, "this is about more than just making money in the community. It's also about networking with other organizations, such as Cherish A Jewel, which assists single mothers throughout Seattle. We are partnering to impact the communities at large. I will offer her members discounts at our store. And you know, there are times when mothers can't afford anything, so sometimes we just bless them with clothing for their children just to help them get started."
Dante also points out an empty case that was to be filled soon with kids' jewelry.
"I love kids and hope to be a parent one day — I am working on getting married," he says with a smile. "But I am mentor to a lot of nephews and nieces and kids in my church. I volunteer at missions and homeless shelters with kids too. Harlem's World is named after my god-daughter Harlem," he says softly, pointing to Harlem's picture, proudly centered on the store wall.
Harlem's World carries sizes newborn to 18. Name brands such as Juicy Couture, True Religion and Baby Couture and Gap are crisply steam-pressed and meticulously arranged on racks in the small, clean and comfortable space. There's a bargain table as well with stacks of even lower-priced items available to peruse.
Dante has been debating about whether to open the store to consignment agreements, but is not yet venturing in that direction. The hours are currently Tuesday through Saturday, 9:30 am– 6 pm, 9830 8th SW, #104, and he invites you to stop by with your kids to say hello and have a look.
You can follow any responses to this entry through the RSS 2.0 feed. Both comments and pings are currently closed.