Big Al Brewing goes solar: Less environmental impact, more beer!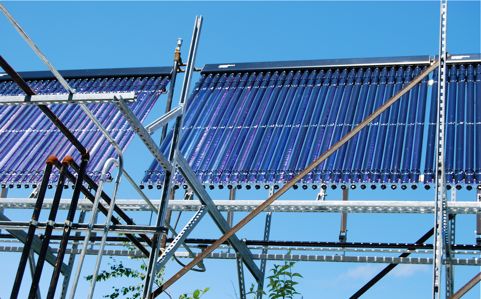 Story and photos by Deanie Schwarz
Reporting for White Center Now/West Seattle Blog
After three years of successfully operating its production brewery at 9832 14th Ave SW in White Center, Big Al Brewing says it is about to become the first brewery in the state to use solar thermal energy to heat the water for brewing its entire lineup.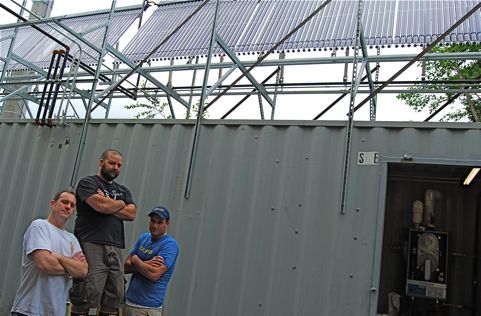 (From left, Carl Holzboog, Alejandro Brown, Sean Beattie)
Owners Alejandro ("Al") and Noelle Brown tell WCN/WSB that Big Al's will flip the switch today for its new solar thermal heating system to brew the first solar batch (batch #300 overall was brewed Tuesday), which will hit taps in three weeks.
Today also happens to be the rollout of Löwman Bräu, a special summer Kolsch produced in collaboration with West Seattle's Feedback Lounge, with part of the proceeds benefiting area nonprofits. If all goes well, Big Al's will continue the seasonal philanthropic offering with a different West Seattle-exclusive brew in the fall. The Löwman Bräu release (with partying venues tonight including Big Al and Company, in WC) is more evidence of what many beer aficionados know about life in West Seattle/White Center and the area at large: Lots of folks enjoy and enthusiastically support well-crafted beers from local microbreweries.
When the Browns made the calculated leap to purchase the former Pacific Rim Brewery Company site in 2008, they did so with great confidence that they could provide local restaurants and pubs with exceptional local beer. But the brewery was built more than a dozen years ago with little consideration of sustainable design or efficiencies in production.
Of the approximate 80-plus breweries in our state and the 30-and-counting in the Seattle area, most rely exclusively on traditional heating sources — either natural gas or electricity — to heat their brewing process. Big Al's has made the visionary move to reduce the brewery's depletion of nonrenewable natural gas. The brewery holds sustainability as a part of its mission and responsibility as an artisanal brewer. Big Al's conversion to solar echoes the innovation in their lineups. They take advantage of unique creative collaborations and do so often and very successfully, whether flavor-matching restaurant menus or participating in community charity tasting events with specials.
The integration of solar thermal heating into the production process with system installer Net Zero Impact is the boldest and most recent innovative collaboration, this time of artful technologies that over time will realize cost savings, reduce the carbon footprint and conserve nonrenewable energy. The system is constantly monitored online and data will be logged to determine the rate of the return on their investment over time.
They are using a 32-year-old solar thermal technology that advocates claim is more efficient than solar photovoltaic cells in capturing energy. The solar energy is captured and the water heats up, whether the ambient temperature is 30 degrees or 70 degrees; it involves a series of tubes and the heating of water, rather than the generating of electricity. (See the explanation on NZI's website.)
Sean Beattie, chief operating officer and founder of Net Zero Impact, says that the savings from reduced natural gas expenses will allow the brewery to begin double-brewing. "Right now we are producing about 150 barrels a month, with each barrel being 31 gallons, " Al explains. "Our previous direct-fire natural gas burner had to be left on all night just to get the water temperature up. That part of our process is gone (and the costs with it). We will be able to come in in the morning and the water will still be retaining the heat from the sun from the previous day, up to about 150 degrees. We will use the new boiler to bring up the water the rest of the way in a very short amount of time with very little gas used," Al says, clearly excited about the new system.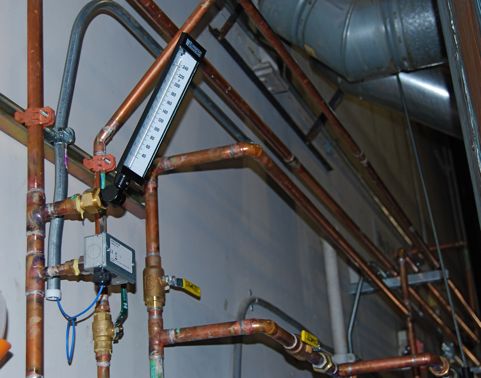 "The beauty of this system for Big Al's," Beattie suggested, "is that they will be able to turn two full cycles of brewing in the time it previously took to do one."
"Double brewing makes sense because it saves on labor. We will be able to brew twice the amount because there are now 500 gallons of water available daily rather than 200, yet [we incur] the same labor costs," Al adds, "Previously, it took about nine hours to brew one batch and we did that every two days, which is 18 hours total. We can do a double batch in 12 to 14 hours. We like those savings."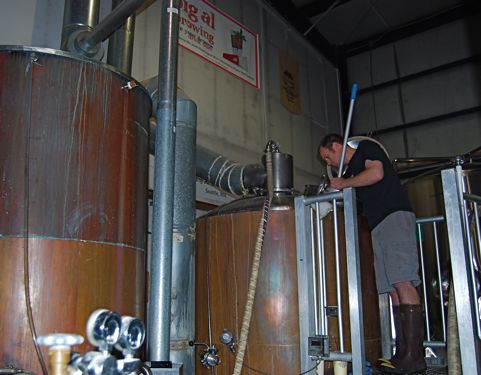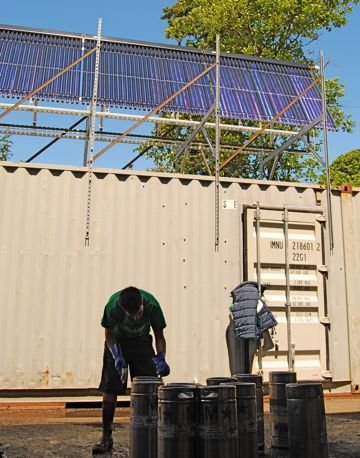 Most microbreweries, just like Big Al's, regularly evaluate sustainability efforts. But there's one speed bump along the path to reducing carbon footprints and conserving natural gas – the initial investment. In the last two years, incentives from federal tax credits and grants has provided an opportunity to recoup 65 percent of the initial costs, according to Beattie. However, the state of Washington does not yet provide incentives or grants for solar thermal commercial applications, though Oregon does. A handful of counties in Washington provide some kind of incentives, but King County is not one of them.
Beattie says his company has been working with Puget Sound Energy on the installation of new high-efficiency boilers by accruing data collected from projects like Big Al's and three schools where he has recently installed solar thermal systems where the numbers are exceeding the expected rate of savings by 300%.
For Big Al, reports indicate the savings will take effect within a few years. Money-wise, that is – nonrenewable-energy savings will be immediate. So hoist a glass and realize it's truly liquid sunshine.
You can follow any responses to this entry through the RSS 2.0 feed. Both comments and pings are currently closed.