White Center business meeting: 'We have accomplished a lot'
By Tracy Record
White Center Now editor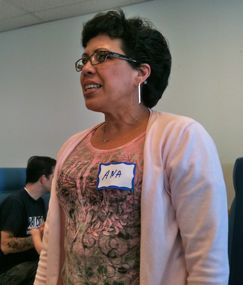 Business owners from around White Center gathered Monday night at the Salvadorean Bakery for the monthly meeting/mixer facilitated by the WC Community Development Association.
The bakery's proprietor Ana Castro (right) offered words of welcome to the two dozen-plus participants: 'Thank you for supporting the community." (She had also prepared a dinner feast for those on hand, including the eatery's famous pupusas.)
Business owners/reps have been convening for these gatherings for more than a year, said WCCDA's Peter Chum, "and we have accomplished a lot as a community." He and co-worker Nhan Nguyen facilitated the meeting.
One accomplishment – branding, with the new signs and banners around the area, and a poster unveiled at the meeting: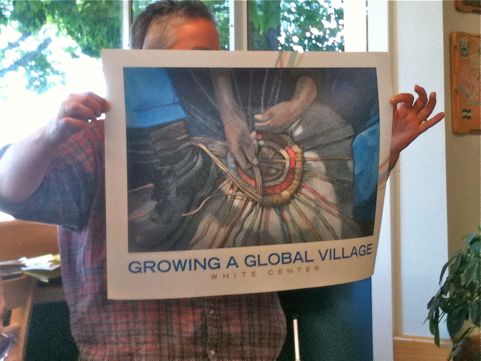 WHITE CENTER POSTER: The artwork for a new poster was unveiled by Kathi "George" Wheeler and artist Terri Sargent Peart, who was commissioned to create the artwork on which the posters are based. The image, it was explained, was someone weaving a basket together with different-colored cords, the community coming together, acrylic painting on canvas, the diversity coming together. The posters were printed by local business Graphics Plus. "To celebrate our place and our people, how we are pulling together," said Nguyen.
WHAT ABOUT THE WHITE CENTER BRAND/LOGO? Wheeler showed two versions of the logo – one with the rainbow rings, one with the baskets inside the rainbow rings (modeled after the ones in the small park in the Delridge Triangle), and asked for ideas on how to use it. A brainstorming session ensued. (57 banners with the new logo are now up around Roxbury, it was noted.) Ideas included tying it into the forthcoming shoppers-reward card, or putting it on bumper stickers/window decals. However it plays out, the logo will be made available for businesses to use, Wheeler assured attendees.
SPEAKING OF THAT LOGO … SPONSORS SOUGHT FOR WELCOME SIGNS: Mark Ufkes from the White Center Chamber of Commerce said that two signs, 108th/4th and 16th/130th (near McDonald's), need sponsors. He also talked about a plan for a White Center food guide that would probably launch in 2012, in connection with local business groups. He also provided an update on the "Good Neighbor" agreement for alcohol businesses; they're hoping for more participation. And they're looking for people to adopt trash cans in the business district.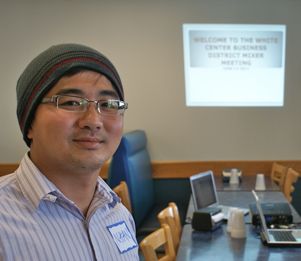 WHITE CENTER BUSINESS RESOURCE GUIDE: A draft version of this brochure was circulated, with information to help businesses find resources to assist their growth and operations. Some of the resources listed in the guide can even help businesses find financing, said Nguyen (left). It also lists media – not just the "mainstream" local media (including WCN), said Nguyen, but also area community/ethnic media, so that businesses can find people who will help them get the word out about their businesses. WCCDA is also looking for ideas on the resource guide – "what's missing, how can we make it better, how can we make it more user-friendly?" First suggestion: Make it more photocopy-ready. Another suggestion: List more websites. Yet another: Make sure the information is accessible on the WCCDA website, as well as in brochure format. And: What about a list of businesses that might be willing to trade with each other? Plus: Categorize the types of listings – private, public. Host Castro suggested, "E-mail it to everybody." Nguyen said the guide is "something to be proud of" as the first such resource for the White Center business district.
PLANTER BOXES: More than 20 were given out with help of a grant from the Seattle Foundation, but some are gone – stolen, vandalized – while others are kept "in great condition," as Nguyen put it, like the one at the Salvadorean Bakery. A new City of Seattle grant for $500 has come in, and they're brainstorming what to do with it. Mikayla talked about one idea of planting edibles – which was viewed skeptically by some, she said, considering that some planters have been used as makeshift ashtrays. Suggestions for the planter boxes included evergreens – "might be less trouble" — or maybe even replacing them with hanging baskets. Nguyen said it's up to businesses to step up and take care of the planter boxes, or else businesses that don't will lose theirs, and they'll be moved elsewhere, as there's a long waiting list, he said.
MEDICAL MARIJUANA 'MISHMASH': King County Executive Dow Constantine's law and justice policy adviser Gail Stone addressed the issue, which also was a topic at the last meeting of the White Center group, since two medical-marijuana establishments have opened recently on 16th SW in the heart of the business district. She recapped what happened with the failed legislation in Olympia. "The legislature didn't clean any of that up, and it has left state and local governments at odds about how do we deal with this mishmash law and regulation. .. We know that the current dispensary business models won't fit under state law, but the county and the city have been working to figure out what's the approach that's going to serve the community." She said she had no specifics about what that approach will turn out to be: "Do we license these things … what do we do, where should they be located, dealing with zoning and making sure these businesses are in one kind of an area or another … It would be really helpful for us at the county to have some input about what are your concerns about where these are sited, how they should or should not be regulated by cities and counties."
One attendee asked about prospective shutdowns: "Can we expect an iron fist?" "We're really trying to figure that out – we're meeting every other day with (a group including prosecutors, sheriffs, Seattle officials)," she said. She indicated no decisions have been made but "hopefully soon after July 22nd, when the state law goes into effect" they will know what they are doing.
"It's going to be interesting to find out what happens next year in Olympia," she added. It was also pointed out that a legalization initiative is circulating as well. WCCDA's Nguyen wondered if existing dispensaries would be grandfathered in, and all Stone could say is, "That's a good question," while musing aloud whether they could change their business model to fit the new rules for "collective gardens."
Why doesn't the county just go to the State Attorney General's office and ask for a ruling? it was asked. "It's an interesting question," Stone said, again, adding that she will forward the suggestion. If you have any questions/comments/ideas, she said, contact her. All she could say they know for sure is that they know businesses, patients, and others involved need "clarity."
King County Sheriff's Community Service Officer Peter Truong, asked for comment by Nguyen, said he had none – "(people) complain about it, but .. (the way) the law is, there's nothing we can do about it right now."
BICYCLE SHOP FOR WHITE CENTER? Ellie Weiss delivered a presentation – asking rhetorically "Why should Ballard have all the fun?" – positing that White Center deserves a bike shop, and presenting a variety of reasons why. As a transitional point, she is suggesting a "regular repair clinic" to have "some kids come in and work on bicycles." She pointed out that White Center is making strides into the bicycling world – with bike parking introduced to the central business district by Proletariat Pizza (whose co-owner Mike Albaeck was among those at the meeting). Nguyen challenged the group to see if anyone knows of a space "to put this idea into motion." No particular space requirement, she clarified, "even if you can get in there with one bicycle and work on it" – they would just like a regular weekly or even monthly clinic space to start with.
WHITE CENTER ART WALK: Amanda Kay Helmick talked about the film festival – three 30-minute programs, starting at 6 pm at Southgate Roller Rink, then on to Full Tilt Ice Cream, then to Big Al Brewing – that is the theme of this Saturday night's WC Art Walk. (Here's the preview we published Monday.) "This is the first month we're going to do something big for the community," Helmick said. "(Before) there really wasn't a lot to bring the outside in … we're hoping to draw from a large area." Next month, she said, they're planning on live painting. "Every month we're just going to do something bigger and bigger. … In September we're going to have the White Center Weird Festival again – would love to shut the street down … not as easy as it sounds, but it would be cool to shut it down. We're working toward that."
KING COUNTY IN MOTION: White Center is getting involved with In Motion, partnering with WCCDA, with a goal of reducing car trips.
BUSINESS OWNERS' HAPPY HOUR: Aileen Sison announced that her next Happy Hour for WC business owners is going to be at Be's Crawfish Grill – while there'll be a Family Happy Hour too, at Zippy's Giant Burgers.
You can follow any responses to this entry through the RSS 2.0 feed. Both comments and pings are currently closed.