Saving the libraries: Petition drive begins; legislators' letter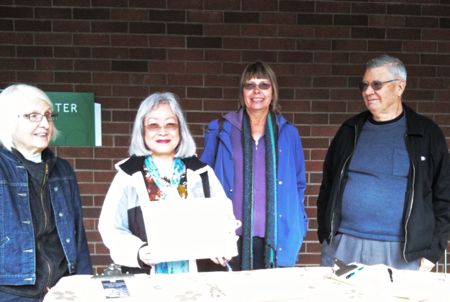 Story and photos by Deanie Schwarz
Reporting for White Center Now
Members of the White Center Library Guild have kicked off a signature drive for a petition that will be presented to the King County Library Services Board of Trustees later this month.
Guild President Rachel Levine (far left in top photo) told WCN the Guild will continue gathering signatures from all ages of the libraries' users through June 16 at various locations, including stations at the libraries.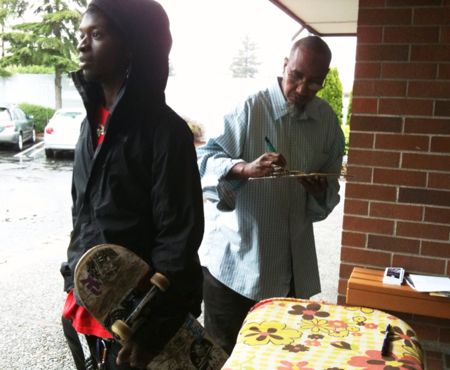 The White Center Library Guild petition reads:
"We, the undersigned, wish to maintain the White Center and Boulevard Park libraries in their current locations;

Accessible libraries are crucial to the academic improvement of our children who struggle to overcome poverty;

We ask the KCLS Board of Trustees to delay any decision about the future of our libraries until after annexation is resolved."
Tonight at the 34th District Democrats' meeting, Liz Giba told that group the petition got about 100 signatures in just a matter of one hour.
At the most recent meeting of the KCLS Board on May 25, a discussion of consolidating the Boulevard and White Center libraries was postponed after appeals from the Guild and King County Councilmember Joe McDermott sought delay of any final decision until the issue of annexation of the unincorporated North Highline area has been discussed by the city of Burien.
The board postponed a decision but asked the staff to provide it with suggested locations of potential new-library sites at the June 28 board meeting at the Issaquah Library Services Center.
Before then, on June 18, the KCLS Board will have its next Planning Meeting at the Burien Library which, according to Levine, in part determines the agenda for the next Board meeting. It will be open to the public to attend, but does not allow for public comment. Two days later, the Burien City Council is scheduled to begin discussions about annexing the remaining North Highline unincorporated area. Elected city leaders have sent a letter to the KCLS Board requesting a delay of any library consolidation decision until the Burien annexation discussion has approached a more definitive conclusion, perhaps by mid-summer.
One more note: Legislators from the 34th and 11th districts have sent a letter both opposing the consolation and exhorting the library trustees to at least wait until there's an annexation decision. Read it here.
You can follow any responses to this entry through the RSS 2.0 feed. Both comments and pings are currently closed.