Zippy's Giant Burgers serves its first White Center customers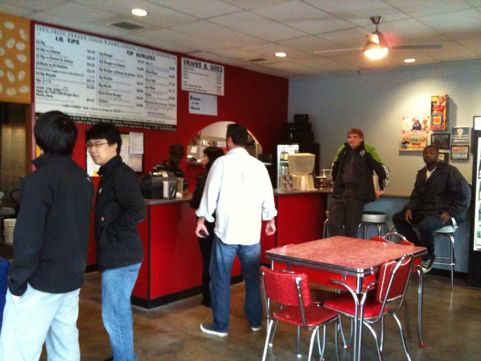 WCN contributor Deanie Schwarz sends in the proof – customers are in the house and burgers are being served at Zippy's Giant Burgers (9614 14th SW), which moved from West Seattle after three years of ever-increasing popularity. They had hoped to open the new location a month sooner, but permit/inspection challenges were cited for the delays – all behind them now.
ADDED MONDAY EVENING: The dinner rush is out the door:
Earlier, Deanie caught Jon Talmadge tackling a King Lou Lou – the truly "giant" burger now on the Zippy's menu:
The King Lou Lou is a dine-in-only option, which'll cost you $14 and change. Four patties, eight pieces of bacon, grilled onions, quadruple cheese, chipotle mayonnaise, lettuce, tomato. Topped with a crown (Lil Zip w/cheese). The King Lou Lou is named for Luis Jimenez, one of the creative stars of Zippy's kitchen.
You can follow any responses to this entry through the RSS 2.0 feed. Both comments and pings are currently closed.