White Center Art Walk, May edition, tonight! Here's where to go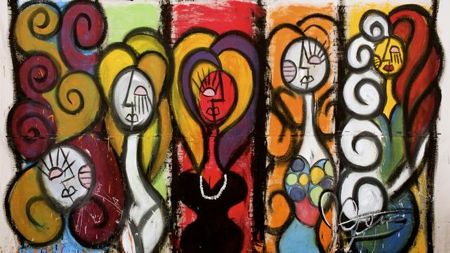 (Work by Jimmy Gersen, who's showing at Salvadorean Bakery)
Tonight! Here's the announcement of the highlights:
White Center 3rd Saturday Art Walk
May 21st, 2011 6 PM to 9 PM

Company (9608 16th SW): Eric Edwards -Collages from found material. This man-rocks-the-k(c)asbah! While we would never outlaw his goods or wall him in, he definitely pushes the envelope in an awe-inspiring package. Using found goods to make inventive, funky creatures; Eric takes collage to a higher level. Never uninteresting, never underwhelming, his art is much like his personality. Come check out his creations and enjoy wine specials until 10pm!

Dubsea (9910 8th Ave SW): Eric Edwards– – Collage out of found material—the family friendly version. Didn't see enough of Eric at Company? Oh, good- me either. Dubsea will be sporting his animal-esque goodies for the May Art Walk.

Big Al Brewing (9832 14th Avenue SW): Christina Thomas- Acrylic paintings on Toilet Paper. Must see. You may not recognize the mediums for what they are. Christina takes a super fragile item and manipulates into something bold and unrecognizable. Come in and enjoy the new Summer Ale on tap and un-doubt your doubting eyes.

Salvadorean Bakery (1719 SW Roxbury): Jimmy Gersen–Reproductions of large scale paintings. Loud, bright, bold-lined figures that are mainly made during live-painting performances. These edgy prints are well balanced and will definitely draw you in for another take. Take down some pastry goodness while you're there.

Café Rozella (9434 Delridge Way SW): Renee Bazino – Landscape Photography & Paintings. Re-visit the beautiful places you've never been. Perhaps you do it over a hot cup of delicious coffee while sitting in a cozy café place. Repeat from last month stop in if you haven't had a chance to see what's gracing their walls.

Dzul Tattoo (9622-B 16th Ave SW): Katie & Alex- Black & White Photography. Drop in for funky grooves and an eye-full of new body ink. Updated B&W photos of the newest generation of ink, dripping with permanence. This shop has spirit and enough eye-candy to chew on for days.

3.14 Bakery (9602 16th Ave SW): Anna Hoychuck– . Anna does the three P's: People, Pet and Product photography and she's good at it. She pulls together relevant colors and subject matter into a crisp well-lit photo. Anna volunteers at the Seattle Humane Society taking photos of the newbies looking for homes, so she definitely scores in the cute-pup-photo-taking department. Come on down for a dollar 'cakeball' and some scrumptious photos!

Full Tilt Ice Cream (9629 16th Ave SW): Megan Thorberg- Prints. Boldlined B&W prints with an interesting twist. Blast from last month! This bold lined goddess will be gracing our visual 'ceptors for another month. If you missed her last month, stop by for a waffle cone of Mexican Chocolate and a pint of delicious bubbly beer and soak in her graphic awesomeness.

Proletariat Pizza – (9622-A 16th Ave SW)- Mike Hipple. Pictures with a story. I'm not usually one for portrait photography but I have to say, Mike makes even me enjoy looking at pictures of strangers. He manages to make it all about the people, and not about the people at all. Each photo pulls you in through its composition and intense lighting. It's almost like a free ticket out of here for as long as you wish to gaze. Oh, and do yourself a favor and order the 'Ham and Egg' Pie. It will make your life better.

ALSO! Please Welcome the Southgate Roller Rink to White Center!! (9646 17th Ave SW). They will soon be rolling into our growing artwalk family with rotating shows and a possibility for projected visual scrumptiousness! Stay tuned to see how they keep us groovy…
You can follow any responses to this entry through the RSS 2.0 feed. Both comments and pings are currently closed.