Zippy's Giant Burgers 'doing everything in our power to get open'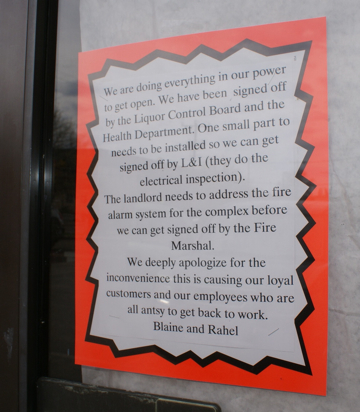 When popular Zippy's Giant Burgers closed in Highland Park almost a full month ago, they expected to need about a week and a half to finish getting their White Center location ready to open. Instead, Blaine and Rahel Cook have encountered a number of speed bumps and roadblocks – and if you went to the WC location at 9614 14th SW, you would have seen the sign shown in our photograph. This morning, Blaine had told WCN contributor Deanie Schwarz about passing most inspections but still having a couple hurdles to clear (including one that is dependent on their landlord) – this afternoon, we were passing by and spotted this sign on the door, which says it all. We'll let you know just as soon as they finally get the go-ahead to open!
You can follow any responses to this entry through the RSS 2.0 feed. Both comments and pings are currently closed.