White Center Chamber lunch: Heroes honored, and more
That's unedited video of a highlight of today's well-attended White Center Chamber of Commerce luncheon – a celebration of community heroes, including Holy Family School principal Frank Cantwell (who you see in the screen grab on our video clip) – led by Chamber president Mark Ufkes, but featuring the heroes themselves, including two people who saved a life with CPR just last week.
The luncheon event also brought other news: White Center's first community Christmas tree is scheduled to go up in the Delridge Triangle this Saturday, with help from local Scouts and other volunteers. As for whether it'll have lights – that's a little more up-in-the-air. Ufkes says the Chamber is also working to help find a solution to the power problem in the nearby Veterans' Memorial, as identified by local entrepreneur, once-and-future candidate, and veteran "Mac" McElroy – also now a White Center Chamber board member – who pointed out last month that the memorial's flag is unlit. And that's not all we heard at the lunch – other milestones and achievements for the year were celebrated, as was the WC C of C board: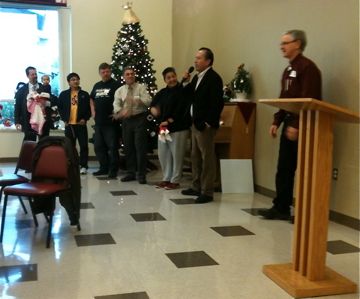 Members who were present were asked to come up to be introduced. The board and Chamber's revitalization were a key point of a "2010 Community Report" handed out at the lunch. The report began by recounting the decline of the organization 2006-2009, until Holy Family principal Cantwell agreed to serve as interim president and worked with other community leaders to keep the Chamber from dying. (Current board members, minus new member McElroy, are listed on this page of the Chamber website.)
Successes past and hoped-for future were detailed, such as the "Good Neighbor" program seeking businesses' partnership in responsible alcohol sales and new White Center signage that will welcome people in more than a dozen languages. According to the report, there also will be signs/banners in the Delridge Triangle park celebrating holidays and festivals celebrated by White Center's many cultures – the Christmas tree will be only the first.
An important issue for the community even beyond its businesses was brought up as well: The Highline Public Schools levy that will be on next February's ballot. (You can read about it here.) School-board member Sili Savusa discussed its importance and the need for volunteers to help with the campaign to make sure it is approved.
Want to know more about the White Center Chamber? It's online at whitecenterchamber.org – and be sure to check out the newsletter, which can be downloaded from the chamber's home page.
You can follow any responses to this entry through the RSS 2.0 feed. Both comments and pings are currently closed.