Opening day for Uncle Mike's BBQ in White Center – with vegetarian options, too!
Story and photos by Deanie Schwarz
Reporting for White Center Now
"Just forget Texas or Kansas City-style barbecue. This is original," says Mike Gordon, the new co-owner, with wife Elizabeth Gordon, of Uncle Mike's BBQ, located at 9640A 16th SW (across the street and down two doors from Full Tilt Ice Cream). Today is the official grand-opening day, after a while in "soft open" mode.
Bright orange painted flames and chubby pigs adorn the windows; on the door under the glass-block transom is the store logo — an iconic, orange backyard-barbecue scene.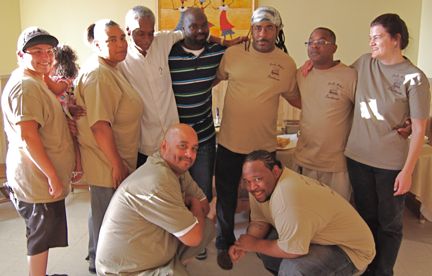 Mike is a Northwest native. His barbecue roots go back through decades of Seattle history – with family members cooking barbecue at their home in the Central District, just down the street from Garfield High School, for African-American entertainers on the circuit during the segregation era of Seattle between the 1940s through the 1960s. "When they couldn't get health permits to serve food, they'd have to do it out of their homes."
That experience and family reunion traditions was the training ground for each of them to learn how to cook barbecue, as well as how to get along with other family members. Mike, an electrician by training, learned to love cooking for large groups as a consequence, because it brought the family together and built community. So now, with the help of his wife and some of those same family members, he has turned passion into vocation, launching his "original barbecue" joint.
It's a place where he intends to serve quality food so that people feel the value of their dollar, but also where a warm welcome and at-home comfort can be found, where you're welcome no matter what your color, gender, nationality, ability/disability, sexual orientation might be, or anything else that might seem to set you apart otherwise. "I think recent restaurant owners here in White Center have a definite sense of social responsibility, as well as a [desire] to make a profit, " Elizabeth says. "It's an opportunity to appreciate different life experiences, rather than be threatened by them or marginalized by them. Then, we get to participate in the richness that all of that life experience can bring to our places here in the White Center commercial district. It changes the character of the community. It's transformative."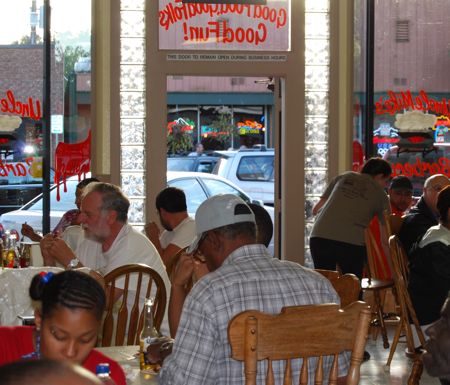 Elizabeth continues, "That's one of the reasons we wanted to be open late at night … to be a [positive] factor in the nightlife. Not only does it provide us with an opportunity to have more customers coming late at night, but it also states the case that not every place here in White Center is involved in questionable activity. [It means] that yes, you can come to WC at night and find [another] welcoming family atmosphere." Elizabeth is the former legal director of Disability Rights of Washington and also has a Masters in Divinity, as well as being a certified candidate in the Seattle Presbytery. Before beginning this new life as a restaurateur, she was working on her theology Ph.D., but then the recession led to long periods of unemployment for electrician Michael and, as she says, "But for the economy, we are being called to the restaurant business."
One more note of direct relevance to Uncle Mike's: Elizabeth is a vegetarian, so this barbecue joint offers a number of vegetarian options. Working with the kitchen staff to develop quality menu choices led to BBQ tofu that's smoked, rubbed, marinated and grilled. Family veggie recipes include Portobello salad and Bobbi's Special, as well as the Queen's Delight, an eggplant and smoked mushroom sandwich using rolls made by Seattle Roll Bakery, located down the block. The baked beans are vegetarian as well. A Suggestion Box is available, so that if there is enough interest, the greens (made with ham hocks) and the red beans and rice will be also made without meat additives.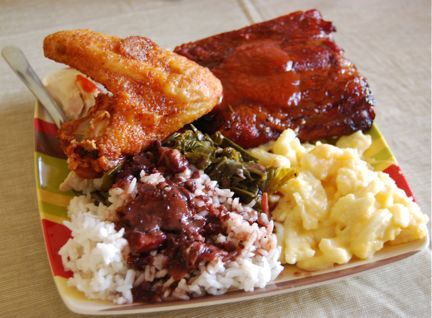 Entrees (see the menu here) are classic barbeque with Kesha's Coleslaw ready as a side order or add it on to a sandwich to make a Southern Slinger out of Poppa's Pulled Pork, Beef Brisket or Hot Links. A special Sunday Dinner of 1/4 Fried Chicken with mashed potatoes & gravy, corn or black-eyed peas, salad and corn muffin will ring up at $9. Sunday Specials include a Smoked Turkey dinner for $7.50.
Weekly specials are also offered. The dessert lineup includes sweet potato pie, Auntie's Lemon Bars, peach cobbler, and ice cream (for the grand opening, they're serving Full Tilt's special Uncle Mike's BBQ Sauce flavor).
Helping tweak the menu, and creatively deriving vegetarian recipes and all other kitchen management matters is former West Seattle Corner Inn (which used to be where Zeeks Pizza is now) kitchen manager Jimi Mitchell. Jimi lists 30-plus years of kitchen credentials, including West Seattle's Corner Pocket, Martini Mike's, Fx McRory's, the Contour, Salty's, and the Mayflower Hotel. "Nothing goes out until it is perfect in taste," says Jimi.
Takeout is available, as well as call-in orders. The crew does catering for large groups, of course, and there is a Monthly Special Discount offered to those who buy their t-shirts made by Seattle Silk Screen across the street. If anyone who buys a shirt wears it into the store at the end of the month and they buy one entrée, they can get a 50% discount on a second entrée.
For more information, the Uncle Mike's website is here, and they're on Facebook too.
Tags: Uncle Mike's BBQ
You can follow any responses to this entry through the RSS 2.0 feed. Both comments and pings are currently closed.