Happening now: Momentous North Highline Unincorporated Area Council meeting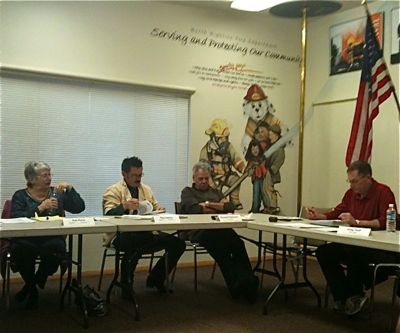 Beneath the flag, that's Greg Duff, who's presiding over his last meeting as North Highline Unincorporated Area Council president – 2nd from left in the photo, it's council member Ray Helms. As tonight's NHUAC meeting began, Duff and Helms were honored by Linda Robson on behalf of King County Councilmember Jan Drago's office, lauded for their service (both are now Burien residents). Otherwise, the "North Burien" transition for the south section of the former unincorporated area is of course the big news; right now, Burien city manager Mike Martin is briefing the group on various matters. Martin has just announced Burien will seek a $150,000 Community Development Block Grant for playground equipment in Puget Sound Park, acknowledging he's telling this group before telling the council (although at least one member is here and said, "You're forgiven"). He also says that preliminary projections from the US Census that's under way indicate North Burien may have 16,000 people, not 14,000 (and he says that if the "original" Burien goes past the 31,000 expectation, this could make it a city of nearly 50,000).
Earlier, NHUAC member Pat Price announced that volunteers will be very much welcome at Evergreen Aquatic Center next week (Highline Public Schools' spring break) as they get ready to reopen the pool. More to come as the meeting unfolds.
Tags: Annexation, burien, North Highline Unincorporated Area Council
You can follow any responses to this entry through the RSS 2.0 feed. Both comments and pings are currently closed.