Last day before North Highline South Annexation expands Burien, shrinks unincorporated area
That's the bright and cheery image you'll find on the City of Burien website's informational page about the North Highline South Annexation that officially takes effect tomorrow. There've been so many outreach efforts that we doubt anyone in the area hasn't gotten word of it yet, but just in case you're left with any questions, the page is link-laden. And of course there's a map: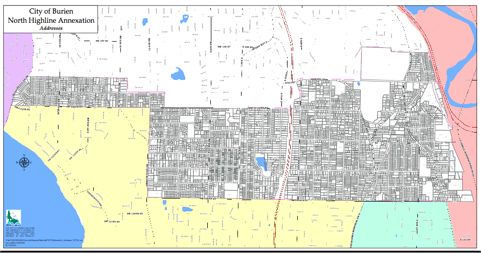 If you open the map from the Burien site, you can zoom in to follow the borders of the annexation zone. In the West, from Seola Beach Drive, it follows SW 112th to 15th SW, jogs south a bit, then heads eastward on SW 114th to 10th SW, heading south again to SW 116th; east of 509, it jogs northward to 112th again, then at 16th S, north yet again to 107th and 108th the rest of the way. So it may take a while to memorize exactly who's in the city limits and who's not. Meantime, there's also a "frequently asked questions" page here.
Tags: North Highline South Annexation
You can follow any responses to this entry through the RSS 2.0 feed. Both comments and pings are currently closed.