Update: Burien City Council cancels motion to indicate interest in annexing northern North Highline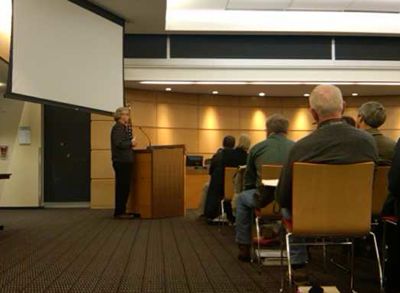 8:02 PM: That's Mark Ufkes, president of the White Center Chamber of Commerce and supporter of Seattle annexing northern North Highline, speaking to the Burien City Council a short time ago. He's part of a full house there to talk about annexation among other hot topics. As we mentioned earlier, the meeting's being streamed live online as usual. It's an hour into the meeting now and they're still in the public-comment period, before councilmembers vote on a resolution that would formally indicate interest in annexing most of the rest of North Highline. "Burien needs all of North Highline to make the city complete," North Highline Unincorporated Area Council president Greg Duff has just told the council, which is hearing impassioned pleas from people on both sides. This process took on a new light last Friday when it was suddenly announced that Seattle Mayor Mike McGinn no longer wanted to move toward an annexation vote in northern North Highline this year, but maybe one in November 2011 instead. More later.
8:18 PM: The public-comment period finally just wrapped up.
8:23 PM: Burien city manager Mike Martin has just noted something that was hinted at in a WCN comment — Comcast now has Burien's cable channel in "Area X," the North Highline South area that will join the city next week, though Martin acknowledged the cable company had previously said that might take at least a year.
9:11 PM: The motion to indicate interest in annexing northern North Highline has just been withdrawn – so that ends that, TFN. Councilmembers decided to resolve the issue that way rather than actually taking a vote on it; they noted that since the resolution first came up two weeks ago, Seattle's decision to pull back on pursuing a 2010 annexation vote has changed the game. Councilmember Gordon Shaw said, "Given the everchanging state of affairs … it doesn't seem to me (the resolution) is necessary at this time."
ADDED: More notes from our reporter at the meeting:
*An SRO crowd, featuring 23 speakers during public comments. All but 2 wanted to talk about annexation. For one hour and 15 minutes, many hit the same themes – it makes no economic sense, and Burien needs to study
the economic impact further; some said the city had a responsibility first to the people it has now (and is about to incorporate). While some voiced concerns over reports that White Center had a higher crime rate, several WC residents who spoke said they felt their community was being unfairly trashed as crime-ridden and downtrodden.
One other theme that was repeated: Concerns over how well the still-unincorporated areas would be represented if they were to join Seattle. Those speakers said that the unincorporated area would find that Burien, due to its smaller size, would be easier to access and deal with.
*Councilmember Kathy Keene attempted to clarify what the motion meant, after over half the place cleared out. She said the agenda item existed because Seattle was at one point supposed to pass a motion 3/8 which would express an interest in looking into annexing the still unincorporated portion known as Area Y. But she said that on 3/8 Seattle did nothing and decided to postpone any immediate action.
*Councilmember Gordon Shaw was the first on the night to move away from the proposal. He said that he was willing to table the matter until a later date as the City of Seattle's and King County's timetables have no effect on his timetable. He said the intent was to express an interest so that North Highline would not feel they have to go to Seattle by default. However, the matter needs more study.
*Ultimately, the resolution was withdrawn by Councilmember Lucy Krakowiak, who had put it forth two weeks earlier, so until and unless someone brings this up again, it's off the table.
You can follow any responses to this entry through the RSS 2.0 feed. Both comments and pings are currently closed.