Standing room only as annexation takes center stage at North Highline Unincorporated Area Council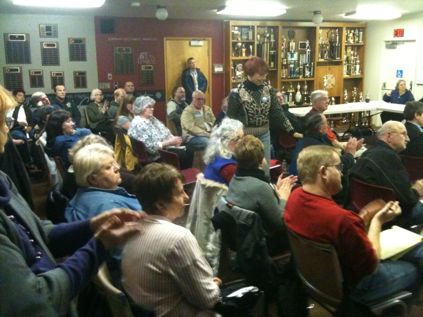 We arrived at the North Highline Unincorporated Area Council meeting late after covering the West Seattle crash involving a police officer – and walked right into that standing-room-only crowd. First one we've seen in the year-plus we've been regularly covering NHUAC.
No surprise, of course, given that the prospect of Seattle annexing northern North Highline annexation figured prominently on the agenda. 20 people spoke in the public-comment section – and by one tally announced at the meeting, 14 were pro-Seattle, 6 were pro-Burien.
Among the pro-Seattle speakers was Mark Ufkes, who brought literature to answer critics' questions about the White Center Homeowners Association that he leads – as well as fellow Seattle supporters filling most of the seats.
King County (and former Seattle City) Councilmember Jan Drago was on the agenda too, speaking about the South Park Bridge (more on that later) as well as about annexation – on which, she said, she'd been misquoted; she contends she told Seattle City Council President Richard Conlin she would not oppose annexation, not that she supported it.
But the guest who drew the most interest was Kenny Pittman, the point person in the Seattle mayor's office regarding potential northern North Highline annexation. He had briefly canceled his appearance earlier in the week; NHUAC president Greg Duff says he convinced Pittman to come after all. He showed up at 8:50 pm – luckily the meeting was running past the projected agenda times, which had him on at 8:25 (the meeting didn't end until 9:45). But he had answers for most of the questions lobbed at him.
One question: What about Evergreen Pool, which has now been closed for almost half a year? If Seattle annexes northern North Highline, Pittman says, the budget would be drawn up to include full operation of Evergreen just like any city of Seattle pool. (The nearest one is Southwest Pool, in West Seattle's Westwood neighborhood.)
Speaking of budgets, though – that seems to be the sticking point that has the prospect of an annexation vote looking a little hazier than it did when we broke the story January 27th that Mayor Mike McGinn was moving forward.
The next Seattle City Council discussion of prospective annexation won't happen until a financial analysis is done, Pittman said – and he didn't offer a firm deadline for when that financial analysis is to be complete. It's definitely meant the process is not moving along at the clip previously discussed, which at one point was going to have the council take it up next Monday – March 8th – for a vote indicating potential interest in, well, a (northern North Highline voters) vote. Instead, the issue is still in the jurisdiction of the Regional Sustainability and Development Committee that Conlin chairs, and its next meeting isn't until March 16th. (You can watch for its agendas here.)
Meantime, Pittman promised there would be information-laden community meetings and other outreach before a vote, and that northern North Highline residents will know, for example, the potential differences in tax rates that they'd be deciding between.
As for other possible effects, here are toplines from what else Pittman said:
*The North Highline fire station would not close – at least in the first decade or so; he didn't rule out a longterm strategy change if the city someday decided a different station in a different location would make more sense.
*Highline Public Schools would continue to run the northern North Highline schools they run now.
*King County Housing Authority would continue to manage Greenbridge – it would NOT become part of the Seattle Housing Authority.
*Sewer districts in the area would be "franchised"; Water District 20 would be contracted with, the other water district would be folded into Seattle Public Utilities, which would then employ its three staffers.
But, it seemed clear, this discussion would all be moot if the forthcoming financial analysis suggested it wouldn't make sense for Seattle to pursue annexation. And – "I don't know what the breaking point is," Pittman acknowledged.
"Could we just not be annexed by anyone, ever?" one attendee asked at one point during the night.
No one had a set-in-stone answer for that, either.
Tags: Annexation, North Highline Unincorporated Area Council, white center
You can follow any responses to this entry through the RSS 2.0 feed. Both comments and pings are currently closed.