Election 2009: Annexation vote update – tonight's 2nd count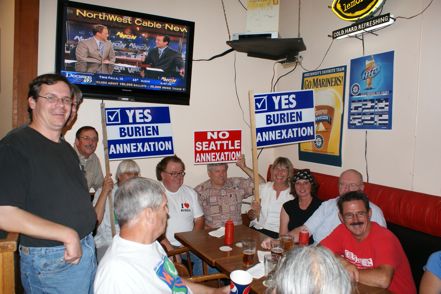 We dropped in on the victory party tonight for annexation supporters, who you can imagine are jubilant. The second and final vote total of the night is out:
FOR ANNEXATION 862 58.84%
AGAINST ANNEXATION 603 41.16%
For King County Executive, the results haven't changed – Hutchison in first, Constantine second, Jarrett third.
ADDED 11:23 PM: When we dropped in on the pro-annexation victory party, we got a written statement from North Highline Unincorporated Area Council president Greg Duff. Here's the transcription:
This is a great day for the citizens of North Highline. By casting your votes and choosing to annex to Burien, you have exercised your most basic right as citizens of this great country. By annexing to Burien, you have chosen to be a part of one of the best cities in the State of Washington.

No longer will North Highline be at the mercy of a county government who threatens to sell off our parks or our services to balance an inflated budget.

In choosing to annex to Burien, residents of North Highline confirmed the survey conducted by the NHUAC. A majority of the council supported the wishes of the North Highline residents.

Many people participated in this victory tonight. I would like to thank a few of them. To Mike Martin, Burien City Manager, and the Burien City Council, thank you for having the vision to see North Highline as an asset.

To the North Highline Unincorporated Area Council, each member has worked tirelessly for this annexation. Your belief in the system has not faltered.

The victory tonight is only the first step. The northern half of North Highline is still waiting for annexation. We believe the citizens have spoken loudly in the survey and at the polls. We will continue to work hard to serve North Highline and support their wishes.

Now is the time for the public to get involved. Visit our website at northhighlineuac.org. We hve a long hard fight ahead of us and we need you.
Tags: North Highline South Annexation, white center
You can follow any responses to this entry through the RSS 2.0 feed. Both comments and pings are currently closed.