King County Executive proposes "mothballing" White Center parks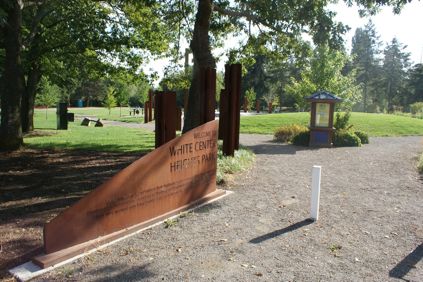 (photo of White Center Heights Park – which is on the list – added 7 pm)
ORIGINAL REPORT, 12:06 PM: As part of the county's budget woes, County Executive Kurt Triplett has just proposed "mothballing" – keeping them open but no longer maintained – more than three dozen parks in urban areas of the county, including White Center. The list is on the right sidebar here. Though the parks will technically remain open, the announcement says that playground equipment will be fenced and restrooms locked in December, if no one steps up to take over the parks. We're pursuing reaction and will add to this story. ADDED 12:53 PM: County Council Chair (and County Executive candidate) Dow Constantine's office says he'll have a statement shortly — you'll see it here as soon as it's out — and adds that the Council will have to sign off on this because it involves next year's budget.
4:01 PM UPDATE: Just received Council Chair Constantine's statement:
"I am opposed to Executive Triplett's proposal to cut all funding for King County parks in the urban unincorporated areas.

"Parks are important to the health and quality of life of everyone in the communities in which King County provides basic services—especially to our young people. To eliminate these parks with the stroke of a pen when economic times get tough would be short-sighted.

"We need to look at all other possible cuts and explore innovative budget solutions—including reductions to administrative staff—before we consider the elimination of direct services to King County residents. I have laid out a set of ideas to serve as a starting point for substantive discussions by the King County Council to create a balanced 2010 budget without raising taxes or cutting funding for urban unincorporated parks.

"It should be noted that Executive Triplett's proposal addresses only parks whose upkeep is financed through the general fund, and would not affect King County's regional parks and trails, which are funded through the County Parks levy.

"I am committed to keeping our parks open in the urban unincorporated areas of King County and will work with Executive Triplett and the Council on accomplishing this goal."
ADDED 6:41 PM: We also asked North Highline Unincorporated Area Council president Greg Duff for comment, and he replies:
The mothballing comes as no surprise to me. The county has been telling us that they want all of the unincorporated areas to be annexed and that they would begin cutting services to those areas. The people who think they can hold out and not vote to annex to Burien or Seattle better wake up. I see this as just the first step in the county telling us to get on the ball and get the annexation done. I hope the people who have not voted yet see what the county is doing and will vote yes to annex to Burien.
Tags: King County Executive, King County Parks, white center
You can follow any responses to this entry through the RSS 2.0 feed. Both comments and pings are currently closed.