Constantine to Sims: Take Puget Sound Park off the list now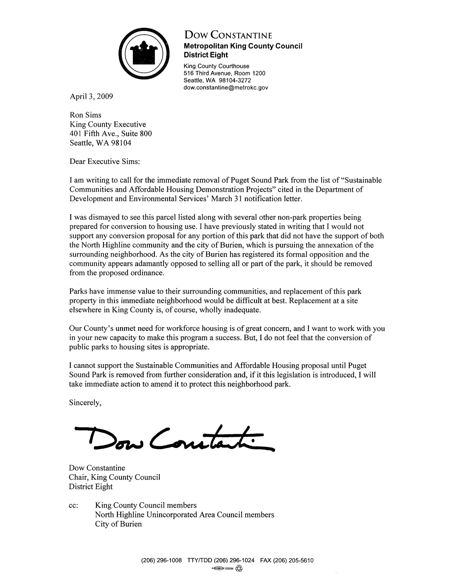 (click to see a larger version of the letter)
Following up on last night's update of the Puget Sound Park sale-proposal situation – that's the letter County Council Chair Dow Constantine has just written to County Executive Ron Sims, asking him to take the park off the list of land he's seeking to convert into "affordable housing" — as noted on this county webpage — or else, Constantine writes, if PS Park is still on the list when it gets to the County Council, he'll move to take it off through legislation. We'll be checking with the County Executive's office for their response.
FRIDAY NIGHT UPDATE: While we haven't yet received a direct response from the County Executive, his staff is working to arrange a chance for us to talk Monday with his point people on this project. We'll let you know what we find out.
Tags: King County, Puget Sound Park
You can follow any responses to this entry through the RSS 2.0 feed. Both comments and pings are currently closed.