Jim Diers of West Seattle and Obama Share Common Ties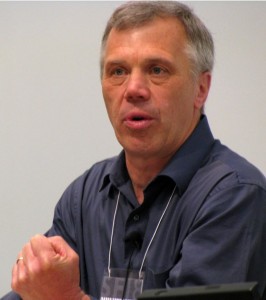 Jim Diers and Barack Obama have a common link as successful community organizers. To check it out read the column by Danny Westneat in the Seattle Times this summer.  The link is: http://seattletimes.nwsource.com/html/dannywestneat/2004456334_danny04.html
Here's a portion from Westneat's column:
Galluzzo trained college-grad Diers in how to organize a fractious community. They formed SESCO, the South End Seattle Community Organization. It was a powerhouse, one of the most successful neighborhood groups in city history. It killed the incinerator.

Diers went on to head Seattle's Department of Neighborhoods and write a book on bottom-up organizing, called "Neighbor Power."

Galluzzo stayed in Seattle for four years, then moved to Chicago. Not long after, he trained another raw college grad looking for a purpose, named Barack Obama.
After leaving the Department of Neighborhoods in 2002, Jim worked for a year as Interim Director of the Delridge Neighborhoods Development Association and for three years as Executive Director of the South Downtown Foundation.
Currently, Jim spends most of his time at the University of Washington, where he teaches courses in architecture and social work and supports community initiatives with faculty and students across all disciplines. Jim also speaks frequently in other cities as a faculty member for the Asset-Based Community Development Institute and as the author of Neighbor Power: Building Community the Seattle Way. Jim is also a denizen of White Center and Cafe Rozella.
(Thanks to Ron Richardson for the link to Danny Westneat's column.)
Tags: Jim Diers
You can follow any responses to this entry through the RSS 2.0 feed. Both comments and pings are currently closed.