Al Skaret: A Hero in White Center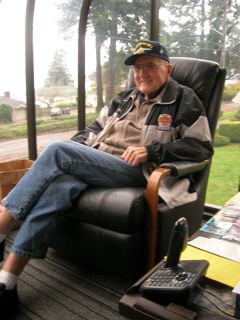 Here is a belated Veteran's Day tribute to one of our neighbors, Al Skaret.  I also have included a photo of Al.  His remarkable survival story is featured in a new book by Maxwell Kennedy., son of RFK.
On November 11, 2008, Veteran's Day, a book was published that tells the story of the Kamikaze attack on the aircraft carrier USS Bunker Hill.  One of our neighbor's, Albert Skaret, was one of the survivors.   Maxwell Kennedy, son of Robert Kennedy,  tells the Bunker Hill story in his new book "Danger's Hour: The Story of the USS Bunker Hill and the Kamikaze Pilot who Crippled Her."  The book was published  November 11, Veteran's Day.

Al, now 88, and his wife Jean have lived at SW Cloverdale for over fifty years.  Maxwell Kennedy interviewed Al several times and his memories and stories are included in the book.

Before the war Al was a journeyman machinist, but after enlisting in the Navy he was assigned as a gunner on a merchant ship defending against enemy submarines.    Al was later assigned to the Bunker Hill.  He could have been a gunner, or a machinist but instead ended up as a ship right and part of a damage control unit.

The Bunker Hill was hit by two kamikaze planes on May 11, 1945,  during the Okinawa campaign.  The gun crews took heavy casualties and all the machinists were among the 396 killed.  250 more were wounded.  Following the attack Al was part of the crew that moved into harm's way in search of survivors.   The crew of the Bunker Hill received the Presidential Unit Citation and 11 Silver Stars were awarded.  Al's story is included in Kennedy's book that is available at local book stores.

This is a belated Veteran's Day thanks to Al and his generation that defended America in her hour of need.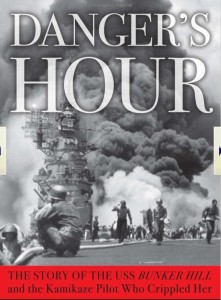 You can read more about Al here and here's the book about the battle, written by Bobby Kennedy's son.
Signed:  Ron Richardson
Tags: White Center people, White Center-West Seattle personalities
You can follow any responses to this entry through the RSS 2.0 feed. Both comments and pings are currently closed.