Meet Mount View Elementary School's new principal, Mark Demick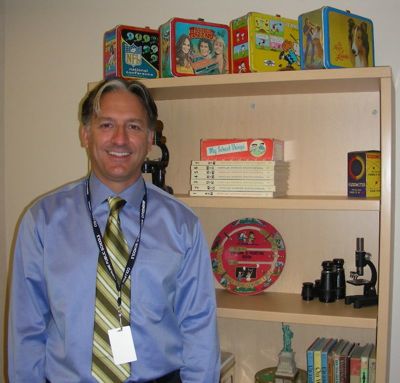 That shelf of quirky collectibles (if you're over 40 like me, the lunchboxes may strike a note of nostalgia!) graces the office of Mount View Elementary's new principal Mark Demick, who says they're just items he's picked up "along the way." And what a way it's been, bringing him from his first teaching job in the farming community of Delano, California — where parent/teacher conferences were sometimes held at vineyard worksites – to this new role in White Center. Read on to find out more about him, why he's excited about the job, and what he hopes to do:
Demick comes to Highline Public Schools after a decade in Federal Way. And it's one of the jobs he held there that really is the inspiration for his desire to come to White Center: As principal of Sunnycrest Elementary, a year-round Federal Way school in a socioeconomically challenged area, Demick says he helped the school improve from "last place in test scores … to the top 4 or 5 schools in the district."
After Sunnycrest, he said he got an offer he couldn't refuse – open a brand-new middle school (Sequoyah) in the Federal Way district, and Demick says he had a great time doing that, but "something started gnawing (at him)" – he couldn't shake the memory of working with the kids and families at Sunnycrest.
Not to mention, he started to think he might be able to contribute to a community a little bit closer to his Seattle home (he's the father of two, by the way – daughters in sixth grade and high school).
So he heard about the Mount View Elementary principal opening (Dave Darling moved to White Center Heights Elementary two years ago, then Charlotte Carr, who's now retired, served as interim principal at MV last year). Demick wasn't really in job-search mode and says he "didn't apply for anywhere else" but now "couldn't be happier," declaring with a big smile that he would like to help Mount View become "the best elementary school on the West Coast."
Some of the components he says are likely to help facilitate that: "We've got a lot of great groups (in White Center and the school district) to support the kids. We didn't have that (in Federal Way)." Also: "More community involvement."
That's not to say Mount View already has all the community involvement he'd like to see. For one, he's strategizing "how to bring in the parents — how to find a task or job they are comfortable with," so they are truly playing a role in their child/ren's school, beyond supporting it at home. The school already welcomes parents dropping in any time during the day, inviting them to use the new "community room" — a converted staff room — where they can find information about various resources. And for parents whose first languages aren't English: "(They) can come to school during the day, learn English, and learn the strategies that their kids are learning in the classroom – we even have day care on site."
Another priority: "We want to get more kids to (meet the testing) standard. We know that if they don't pass the 4th-grade WASL, their chances are diminished for 7th, and then 10th."
Demick already is even looking ahead to next year because Mount View will have a "dual-language program," where kids learn in English and Spanish. It starts next year in kindergarten and 1st grade, adding grades each year till it's offered all the way through sixth grade.
So what's his biggest surprise in week 1? we asked. "That we got off to such a successful start," was the quick reply. He was worried about logistics or possible first-week-of-school turmoil, but he says it was the best first week of school he can remember in his entire career.
Any specifics planned for the year ahead? He confesses he might wind up on the roof in a chicken suit, if he replicates a challenge he laid down to students at a previous school — meet a reading goal, and the principal pulls a stunt. You can bet we'll be back to see that!
Got news about your White Center-area school? An interesting staffer or student you think others should meet? Don't assume somebody else will tell us – you can be the tipster! E-mail us any time at whitecenternow@gmail.com – thanks!
Tags: mount view elementary, white center
You can follow any responses to this entry through the RSS 2.0 feed. Both comments and pings are currently closed.