Annexation-info meeting report #2: Photos, video, more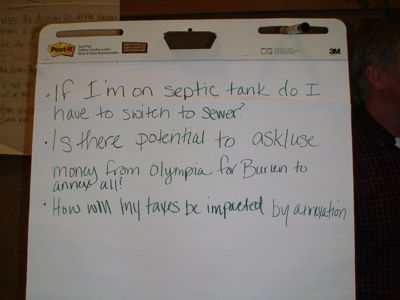 That whiteboard holds a few of the questions asked by some of the dozens in attendance at tonight's gathering in Boulevard Park, the first in a new round of informational meetings planned by Burien city leaders in hopes of answering questions about their North Highline Annexation proposal.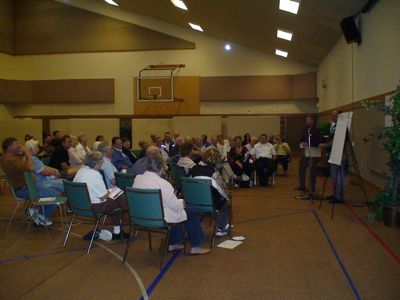 Besides "how would annexation affect me?" type questions like those you see in our whiteboard photo, the biggest question underlying the event: After yesterday's withdrawal of the proposal, what now? Here's what we found out, including video from our interviews with two top Burien leaders:
First, if you're still having trouble sorting out why Burien made the move, here's the explanation tonight from city manager Mike Martin:
We also talked on camera with city councilmember Gordon Shaw:
The political wranglings didn't interest people at tonight's meeting as much as the practicalities. Even though all this has been under discussion for years, some points still required reiteration and clarification: for example, one resident in the potential annexation area worried that law-enforcement service would change if the city of Burien took over – and it had to be explained that King County Sheriff's Office personnel are the people who provide Burien with police services right now, so there'd truly be no change. Some questions posed tonight couldn't be answered immediately, so Burien city staffers promised they would get answers and post them in the annexation-info section of the city's website. (King County has some Q/A documents here, too.) As for the ongoing question of why Burien has only pursued the southern section of the potential annexation area, we asked Councilmember Shaw what he would tell a White Center resident:
Martin said the annexation zone was drawn to be "revenue-neutral" – generating enough revenue for the city to cover the costs of providing services. So what's next? As we reported earlier, it's expected negotiations will resume among the interested parties – though it's not clear who's going to make the first move. Burien expects to resubmit an annexation proposal later this year, probably not in time for a February election, so it's speculated that August or November of next year is more likely for the vote. And in the shorter run, as Martin reaffirmed earlier today, the Boundary Review Board hearing on the annexation proposal set for Sept. 2nd in Tukwila (more info here) needs to proceed, but since the proposal in question is currently withdrawn, it's not entirely clear what the result of that meeting will be. Meantime, Burien leaders promise to share information on additional open houses as soon as it's available. (To track all White Center Now coverage of annexation, keep an eye on this archive.)
Tags: Annexation, burien, north highline, white center
You can follow any responses to this entry through the RSS 2.0 feed. Both comments and pings are currently closed.