FOLLOWUP: Crowdfunding to help twice-burned Locker Room's owners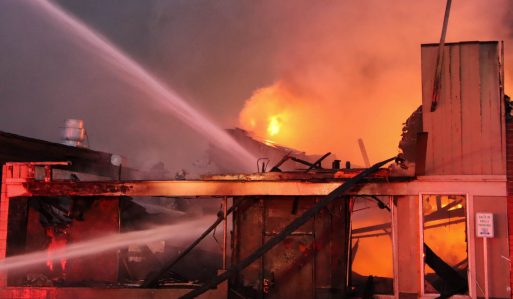 (WCN/WSB photo by Patrick Sand)
As reported in our original coverage of this morning's three-alarm White Center fire, it's the second time in five months that flames have torn through the Locker Room at 9633 16th SW – and this time, it's a total loss. The owners were "on the cusp of starting to rebuild," according to a crowdfunding page set up for them. It's been a rough year, the organizer explains: "To be closed for covid multiple times…the first fire…and now just when it was looking up to start rebuilding…another fire." Here's where you can donate.
P.S. Neighboring businesses Bizzarro Italian Café and Huong Xua are both boarded up tonight. Bizzarro's website says they'll be closed "for a few weeks"; we'll continue checking tomorrow on Huong Xua. As for the fire's cause, we checked again with the FD at day's end – no determination yet.
You can follow any responses to this entry through the RSS 2.0 feed. Both comments and pings are currently closed.