EARTH DAY: County Executive in North Highline to launch '3 Million Trees'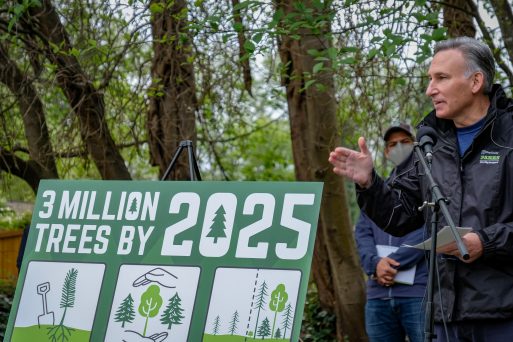 (King County Executive's Office photos)
Nine months after touring North Highline's future county park, King County Executive Dow Constantine returned there for Earth Day to launch the "3 Million Trees" initiative. From the announcement:
King County Executive Dow Constantine on Earth Day joined community partners to kick off 3 Million Trees, an initiative that will plant, protect, and prepare a combined three million trees throughout the region by the end of 2025.

The initiative is part of Executive Constantine's proposal for the 2020 Strategic Climate Action Plan, which includes strategies to cut greenhouse gas emissions countywide in half by the end of this decade. Under 3 Million Trees, King County will plant 500,000 trees, accelerate land conservation to protect intact forestland this is absorbing carbon today, and prepare forests for warmer, drier summers that are occurring as the result of climate change.

"Earth Day is a moment for reflection, for inspiration and, most importantly, for action, which is why we are kicking off 3 Million Trees today," said Executive Constantine. "We will build on the momentum of our successful 1 Million Trees initiative to achieve even more ambitious goals: increase urban tree canopy, protect forestland that this absorbing carbon now, and prepare forests for climate impacts."

King County Parks' Volunteer Program staff can assist residents and organizations that want to participate in the initiative. In addition to tree planting, volunteer coordinators organize events to remove noxious weeds and provide educational opportunities.

Executive Constantine kicked off the initiative with partners at a new urban park in unincorporated North Highline that King County acquired in 2020. King County crews, along with Friends of the Trail and Dirt Corps, have removed more than 7 tons of debris and truckloads of invasive species from the once-neglected greenspace. Native spring vegetation – including Pacific waterleaf and trillium – once covered by invasive Himalayan blackberry and ivy are coming back to life now that they have room to grow. The protected greenspace is beginning to offer better habitat for birds, pollinators, and wildlife in addition to offering public health benefits in a neighborhood that previously lacked access to open space.
See the rest of the announcement here.
You can follow any responses to this entry through the RSS 2.0 feed. Both comments and pings are currently closed.