Senator-elect Joe Nguyen, Reps. Eileen Cody & Joe Fitzgibbon, Councilmember Joe McDermott @ North Highline Unincorporated Area Council on Thursday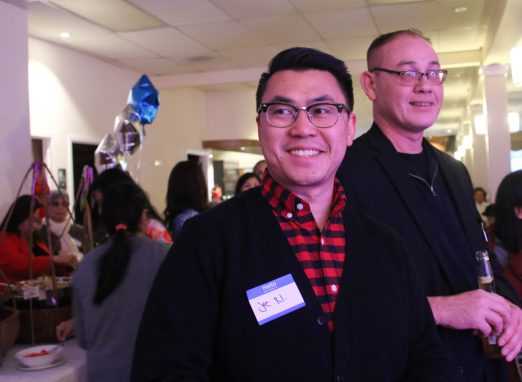 On Sunday, 34th District State Senator-elect Joe Nguyen was at White Center's Diamond Hall for a post-election (full story here). Thursday night, he'll be back in WC as one of four local elected officials invited to the North Highline Unincorporated Area Council's December meeting. Here's the announcement:
North Highline Unincorporated Area Council Meeting

When: Thursday, December 6, 2018 at 7 pm
Where: North Highline Fire Station at 1243 SW 112th Street in White Center
(Parking and entrance are in the back of the station)

The Opportunity to Be Informed, Be Involved and Be Heard!

Please join NHUAC at our last meeting of 2018. We'll be welcoming State Representatives Eileen Cody and Joe Fitzgibbon, King County Councilmember Joe McDermott and State Senator-elect Joe Nguyen. This is a rare opportunity to engage with those who make many of our laws and regulations. What is going on in our county and state governments? What is going right? What needs to change? What do our elected representatives plan to work on in 2019 and why? What do they need to know about us?

Another elected official, member of the White Center community, and a regular at NHUAC meetings, Commissioner Loretta Brittingham, will educate us about an upcoming February vote on the future of Water District #45.

Scott Davis, another NHUAC regular and strong community supporter, will share information about the White Center Kiwanis, its upcoming Baked Potato Dinner, and give us the opportunity to purchase their eagerly anticipated holiday nuts for $20 a tin.

Deputy Bill Kennamer will be on vacation, but KCSO hasn't forgotten us! Major Bryan Howard will be there to answer our questions.

Do you have something on your mind? Join us and share at NHUAC's last meeting until February 2019!

See you Thursday, December 6, 2018 at 7 pm

Because Knowledge and Community Are Power!
You can follow any responses to this entry through the RSS 2.0 feed. Both comments and pings are currently closed.