From HONK Fest to Steve Cox Park updates, what happened at North Highline Unincorporated Area Council's May meeting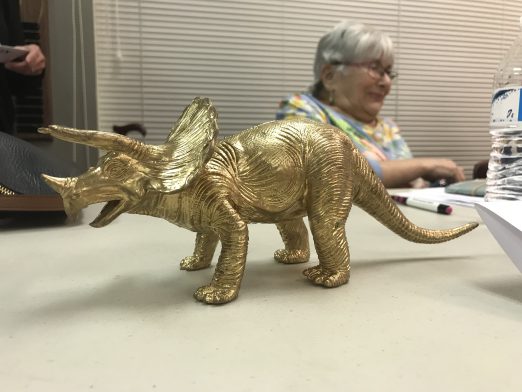 The dinosaur was a special guest at this month's North Highline Unincorporated Area Council, in honor of HONK! Fest West, one of the night's big topics.
The festival will close some downtown White Center streets on June 2nd, 1 pm to 6 pm. They're expecting
maybe 30 bands for the three-day fest around the region, but not sure how many will be in White Center.
There are no physical stages. In general – one band area will be near the intersection of 16th and Roxbury, the second about mid-block on 16th, the third will be by the roasted corn stand on 98th, with a fourth still being worked on. Bands will work off a schedule so as not to compete with each other.
There will be some local bands as well as bands from around the US and one from Moscow. (See the list on the HONK! Fest website.)
Donation buckets will be out at the fest.
STEVE COX MEMORIAL PARK: King County Parks says renovation starts after Southwest Little League concludes. The bulk of the work is on the grass fields where the carnival rides were located during Jubilee Days. That area with get synthetic playing fields that are scaled for youth use (i.e. soccer is junior soccer size, baseball diamonds are little league regulation). Parks rep explained that the renovations are to encourage youth sports and activities. A 10-foot paved walking path will be put around the new synthetic fields. Youth sports will get first priority for use, but there will be times open to the public.
General benefit of all this is drainage, as the old grass field had cancellations after heavy rain. Tennis and basketball courts will remain open; programs in the log house will go on through construction, which should be complete in October.
The cottonwood trees are being removed; new dogwoods and white firs will be planted.
Because the synthetic fields are going in, the amusement rides will have to be relocated for the carnival, and that's still being worked on. The Parks rep would not commit to a new location despite everything that's been said about moving it to one of the schoolyards.
KING COUNTY BUDGET: Dwight Dively also spoke to NHUAC. He is director of the Office of Performance, Strategy, and Budget.
He said that the two areas that area most under pressure are the general fund and roads. He said King County gets less revenue from certain areas than many of the surrounding counties. That's due to incorporation within King County that took many of the major tax contributors (e.g. car dealerships) out of the equation.
He ended by saying that counties get the short end of state funding and County Executive Dow Constantine is putting together a variety of people to see how that can get changed. The working group's full report to Dow will be ready this fall.
Also from county government:
A DEPARTMENT FOR LOCAL SERVICES? Following up on this January announcement, Alan Painter said he's on an outreach/listening tour. The county council will discuss this in the fall and may or may not approve the plan. Painter said he was there to hear what things people might want included in such a department. Overall the idea is to create a group that is in touch with the unincorporated areas to hear their concerns and be the department those people can go to taht will wade through the bureaucracy to get answers or possible fixes. Meantime, the annual unincorporated areas' town halls are coming up; the one for White Center/North Highline will be on May 29th, 7 pm at Seola Gardens, 10900 4th SW.
KING COUNTY SHERIFF: Auto thefts are up, and so are stolen-vehicle recoveries.
The North Highline Unincorporated Area Council meets on the first Thursday of most months, 7 pm at North Highline Fire District HQ; check northhighlineuac.org between meetings.
You can follow any responses to this entry through the RSS 2.0 feed. Both comments and pings are currently closed.