VIDEO: Evergreen, Cascade students join national walkout
17 seconds of silence. pic.twitter.com/RHESoZNjYC

— West Seattle Blog (@westseattleblog) March 14, 2018
Our first video clip includes the 17 seconds of silence observed by Evergreen High School and Cascade Middle School students this morning as they joined in the national student walkouts marking one month since the school massacre in Florida. They also chanted and heard fellow students' speeches before going back to class after about 20 minutes of gathering.
'Choose our lives/over guns' pic.twitter.com/hvOeWehKdN

— White Center Now (@whitecenternow) March 14, 2018
Thanks to the students who invited us to be there to cover their gathering in the lot on the northwest side of campus.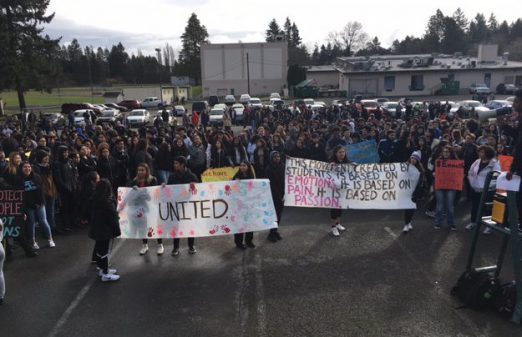 ADDED: Video of the students who spoke:
You can follow any responses to this entry through the RSS 2.0 feed. Both comments and pings are currently closed.