UPDATE: Driver crashes into Noble Barton's front door; suspect arrested in West Seattle
(WCN photos)
8:34 AM: Thanks to Matt for the tip – a car crashed into the front door of Noble Barton in downtown White Center early this morning. We went by a little while ago to check on whether that would affect the popular restaurant/bar's operations today. Short answer: No, they'll be open as usual. Nobody hurt.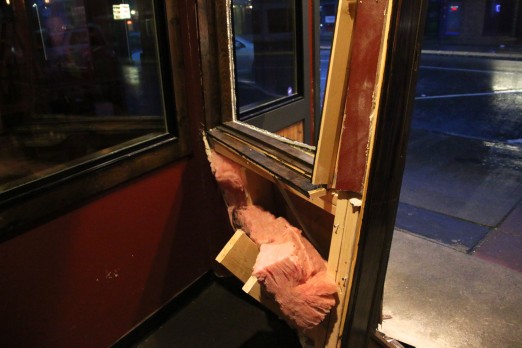 We're checking with the King County Sheriff's Office to find out what happened to the driver, who the folks at NB told us was reported to be suspected of DUI.
11:01 AM: Just procured information from KCSO spokesperson Sgt. Cindi West:
This morning about 2:15 we responded to the NOBLE BARTON business at 9635 16 Ave Sw. Someone called and said a green Ford, SUV had done a hit and run at the Noble Barton bar at that location.

About 2:26 Seattle Fire called us and said they had a woman in the 7100 block of 30 Ave SW who said she had been involved in a collision. She had been driving a green Ford Explorer. The woman told Seattle Fire that after the accident she had returned to her house in the 7100 block of 30 Ave SW and called 911 to report the accident because she had sustained a head injury in the accident. The woman, a 57 year old local woman, was arrested for DUI and Hit and Run. She was transported to Highline Hospital for treatment and was not booked this morning due to her injury.
You can follow any responses to this entry through the RSS 2.0 feed. Both comments and pings are currently closed.