Video: Suspect arrested after White Center bank robbery
(Photos by Patrick Sand for West Seattle Blog/White Center Now)
10:33 AM: There's a search after a robbery was reported at Chase Bank in White Center. Seattle Police are helping search. There's word of a possible suspect found to the south, but the search will continue until and unless that is verified. Updates to come.
10:46 AM UPDATE: A suspect was taken into custody at 19th/104th; we were there and will add photos. Right now we're back at the bank to gather more information.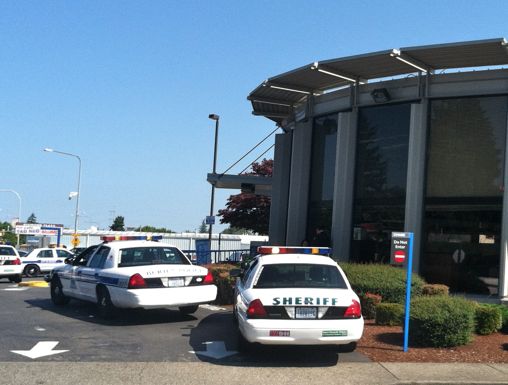 10:58 AM UPDATE: KCSO Sgt. Cindi West says deputies spotted the suspect "jogging" in the area. He was found to have a gun and a bag in his possession. The robber was reported to have shown a gun. So he remains in custody. Added a photo from the bank; arrest-scene photo shortly.
11:35 AM UPDATE: Just added the above clip, with Sgt. West explaining what happened. This is the second White Center bank holdup in less than two weeks. Just yesterday, we reported on the charge filed against the suspect arrested days after the one at KeyBank on July 13th.
You can follow any responses to this entry through the RSS 2.0 feed. Both comments and pings are currently closed.