Live at White Center Jubilee Days: Final afternoon!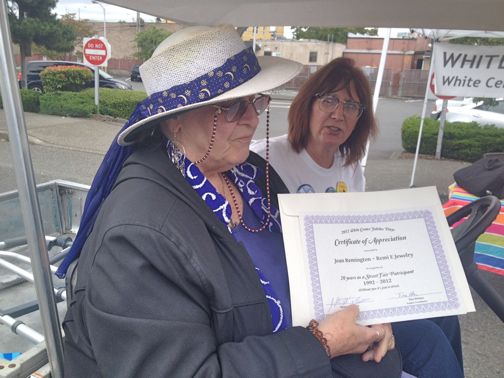 1:57 PM: WCN is live at White Center Jubilee Days for the first time ever – and Tina Holmes, who's managing the vendors this year, just stopped by with a vendor who just received a big acknowledgment: At left in our top photo (with Tina at right) is Jean Remington of Remi E Jewelry, who's been coming here for 20 years, all the way from Bonney Lake. She received the certificate on stage a little while ago (and is still selling her jewelry this afternoon).
3:10 PM: The music continues for a while longer – earlier this afternoon, the popular kindie-rockers The Not-Its played on the south stage: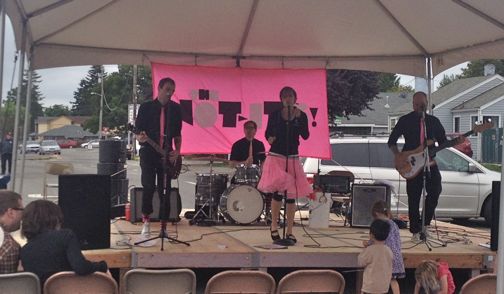 That was right after the Jubilee Days parade – we'll be adding some visuals from that in a separate story. Vendors are scheduled to be here till 5 pm; it's been a bit breezy but there are sunbreaks and blue-sky breaks, and a pleasant stroll for all the folks passing through.
4:44 PM: The sun even came out! So did this robot – operated by a team with members from Highline, Evergreen, Kennedy, and Renton, meeting in Tukwila: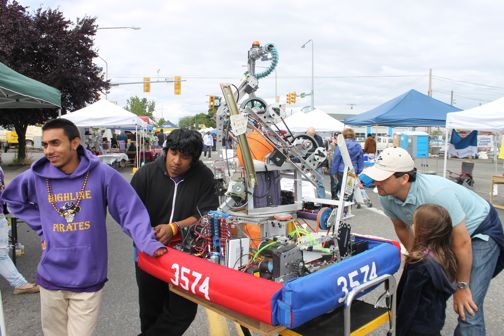 The visitors keep coming – and the vendors keep smiling – Lonjina and Jenny from Center Studio are here, with Jenny doing massage to raise money for WestSide Baby: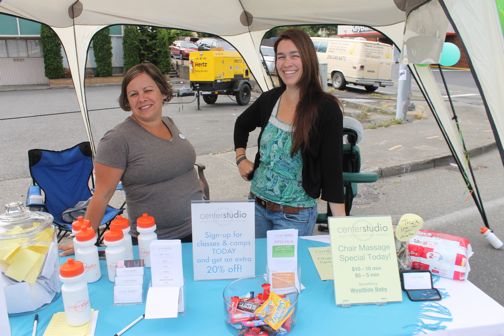 And the SWAC Football/Cheer booth has been offering free face-painting: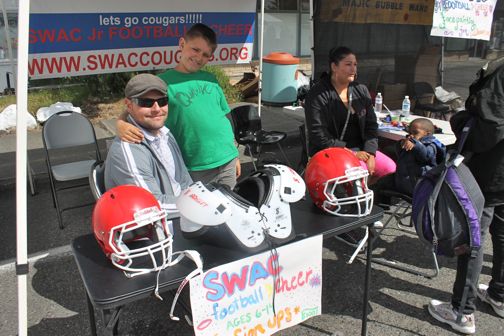 There's been good food and fun all afternoon. And plenty of bubbles. Random bubble generators have been sending streams this way off and on – and that's added to the cheery atmosphere. The vendors are scheduled to fold up soon but the carnival over at Steve Cox Memorial Park continues till 9 tonight, so the fun's not over yet.
You can follow any responses to this entry through the RSS 2.0 feed. Both comments and pings are currently closed.