Huge day in White Center: Parade today; street fair continues; Zippy's contest; Library Guild yard sale; Saturday scenes
White Center Jubilee Days' grand finale today – highlighted by the parade (11:30 am) and the second day of the street fair – and did we mention the Zippy's Giant Burgers burger-eating contest this afternoon? The WC Library Guild sale, too! Complete rundown after some scenes from Saturday: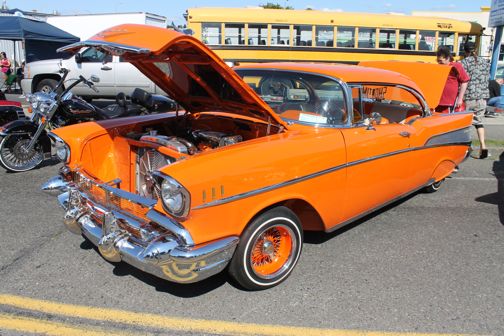 (Photos by Patrick Sand for WCN)
That '57 BelAir was part of Saturday's Jubilee Days car show – these, too: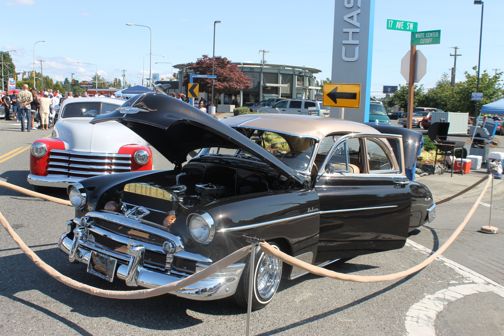 Unfortunately the car show does not continue today. But you'll find vendors, entertainment, and community groups, like your North Highline Unincorporated Area Council:
NHUAC's Richard Miller, by the way, told us that their next Public Safety Forum on September 13th will include the two candidates for King County Sheriff, current sheriff Steve Strachan and recently retired longtime sergeant John Urquhart. Speaking of public safety, North Highline Fire District is at Jubilee Days too: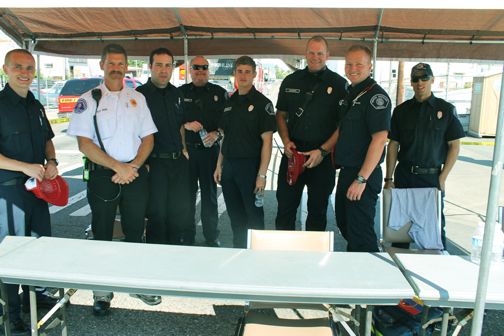 By next year, depending on results of this November's vote, White Center Jubilee Days might also be technically North Burien Jubilee Days. Local supporters of Burien annexation were on hand:
(P.S. in terms of equal coverage – we didn't see a "no" booth or we would have photographed them too – we'll look again today.) You also have a chance to support many hard-working White Center nonprofits, like the Food Bank, which again offers the chance for you to be photographed on a classic motorcycle – suggested donation $4:
If your taste in vehicles runs toward buses – check out King County's RapidRide bus – though the C Line is ending in nearby Westwood instead of running all the way to WC as the current 54 does – the big red-and-yellow bus is there with "RapidRide Man":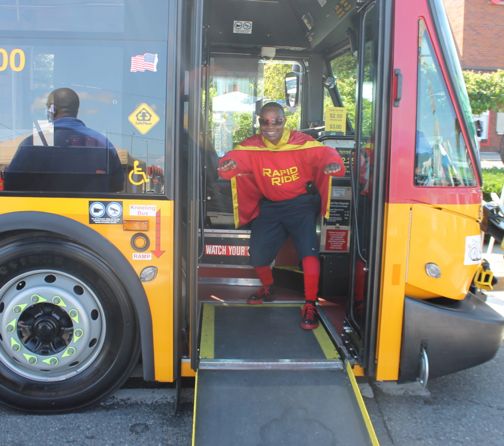 We'll be at Jubilee Days today on behalf of WCN, noon-5 pm in a booth, covering it live. So here's how everything unfolds today:
*10 am-2 pm – WC Library Guild rummage sale in the Muffler Shoppe parking lot
*11:30 am – White Center Jubilee Days parade (info including the route on 16th SW, here)
*Noon – Street Fair begins (entertainment lineup here)
*Noon-9 pm – last day of the Jubilee Days carnival at Steve Cox Memorial Park
*2 pm – Zippy's Giant Burgers burger-eating contest (signups start at 10)
You can follow any responses to this entry through the RSS 2.0 feed. Both comments and pings are currently closed.