Do you know what happened to Ben Muñoz of Top Hat?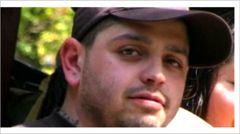 One year after a Top Hat man disappeared, investigators are hoping someone has information on what happened to him. Here's their news release:
The King County Sheriff's Office is asking for the public's help locating a man missing since last year. Benjamin "Ben" Munoz was last seen by his father on April 29, 2011.

King County Sheriff's Detectives believe Munoz is likely dead and foul play is a definite possibility. There does not appear to be any other reason why he may be missing.

Ben Munoz lived with his father in the 11000 block of 1st Ave SW, in the Top Hat neighborhood of unincorporated King County. On April 29, 2011, his father heard Ben come home about 2:00 AM and go to bed. He saw Ben briefly the next morning before leaving for the day. No one has seen or heard from Ben since. He was unemployed.

Ben is 5'5" tall, 200 lbs with black hair. He has numerous tattoos on his arms and across his shoulders. He did not have a car.

If anyone knows what may have happened to Ben they are asked to call the King County Sheriff's Office at (206) 296-3311 or 9-1-1 (24 hours)

Tipsters can also call Crime Stoppers at 1-800-222-TIPS with information. Rewards are offered up to $1,000.
You can follow any responses to this entry through the RSS 2.0 feed. Both comments and pings are currently closed.