Why there's a roadblock in the heart of White Center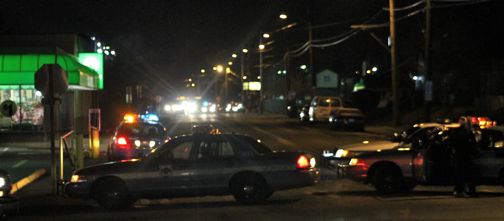 (WCN photo by Patrick Sand)
Thanks to those who tipped us on this (206-293-6302 or whitecenternow@gmail.com any time): We went over to check out reports police had blocked off an area in the heart of White Center. We found 15th blocked near the dollar store, as you can see in our photo, with Seattle Police helping King County Sheriff's Office deputies. We were told at the scene that they are talking with a man in a vehicle who is threatening to harm himself, in hopes they can get him to safely surrender. We will check back later to see if the situation is resolved.
ADDED: King County Sheriff's Office spokesperson Sgt. Cindi West confirms the man was successfully talked out of his car, and taken to Harborview Medical Center for evaluation.
You can follow any responses to this entry through the RSS 2.0 feed. Both comments and pings are currently closed.