White Center-South Delridge Community Safety Coalition: From drugs to coffee to Facebook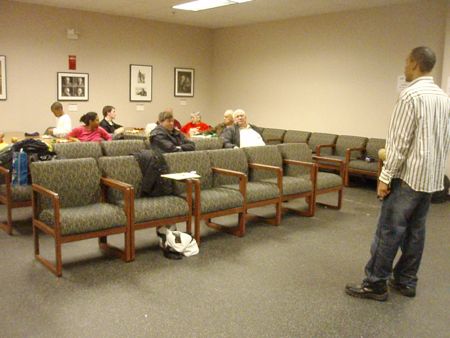 Story and photo by Karen Berge
Reporting for White Center Now
The White Center/South Delridge Community Safety Coalition held their final meeting for the year last night in the White Center DSHS building. This gathering was a mixture of fun as well as business, as the group organizers wanted to celebrate "a year well-spent" with a potluck. Attendees included 15 adults and a handful of well-behaved young children.
Co-chair Sean Healy opened the business portion of meeting shortly after 6 p.m. with a round of introductions and a few remarks. He noted that there were no representatives from the King County Sheriff's Office and Seattle Police Department at the meeting as there have been in the past. It's not clear if members of KCSO will be able to attend future meetings because of budget cuts; he said they do expect and hope to have representatives from SPD on hand at upcoming meetings.
Next, Pat Price, from the North Highline Unincorporated Area Council briefed the group on a "Teens Against Drug Abuse" event she attended in High Point last month. She participated in a roundtable discussion about prescription drug use, a problem with growing prevalence and impact; their conclusion is that "Take Back Our Meds" programs are a huge step toward reducing the problem and could be implemented here. A one-day take-back collection effort recently resulted in more than 1300 pounds of drugs being collected. Price proposed inviting one of the speakers from the King County Hazardous Waste Division to present at a future meeting of this group; there was unanimous interest in having her pursue that. The group also touched briefly on whether they could establish a permanent take-back drop-off location in one of the local stores.
Moving on to other potential meeting topics, the WCSDCSC has received e-mail from the Technical Access Foundation . They want to present their plans to the group for a new 3-story facility near Hicks Lake. They have a well-established after-school program and have been fundraising and planning for a new building for several years; they plan groundbreaking sometime in the spring. One attendee asked how this fit in to WCSDCSC; Sean Healy replied, "Promotion and advocacy is how we tie in."
Other Announcements
· Healy also mentioned to the group that he is helping establish a Block Watch group on 12th Ave SW near Mount View. He added, "They feel like they're being held captive," so he wants to see them get started.
· Healy announced that the White Center/South Delridge Community Safety Coalition is now on Facebook; he urged those at the meeting to send a friend request.
· Dick Thurnau, with Friends of Hicks Lake, updated the group on his plan to approach the King County Council to take action on contamination levels in the lake. He noted that this is an ongoing issue, a danger to the community. Thurnau plans to meet with new County Councilmember Joe McDermott. He asked the group if they would attend the presentation to the Council (a date has not yet been set). By show of hands, the group agreed.
· One member asked about "a strategy to build the populace of this coalition"; in the discussion that followed, Sean Healy mentioned that he had talked with a Girl Scout troop leader about conducting a community assessment of the youth; "What do they see?" and "What do they want to see?" Someone followed with the suggestion of trying to obtain a grant that could focus on generating more participation from youth.
Following up on topics from earlier meetings:
· Liquor license renewals – the announcement that Center Market chose not to renew their license received a round of applause at the meeting. However, there are still issues with chronic inebriates hanging out at the Chevron station next door…
· Liquor signage regulations – they discussed supporting and thanking the businesses that do follow the regulations and bringing pressure to bear on businesses that don't.
· Enforcement of drinking in parks – Dick Thurnau reiterated some of the problems in Lakewood Park; "YouTube them" was one suggestion in reply. Someone else added a word about budget cuts.
· Club Evo – Pat Price said that the Sheriff has run some quick stats and noted a 40% drop in police calls since it's been closed.
New business: Co-chair Angela Rambo had two items of note:
· A focus group recently surveyed White Center families what they needed; they plan to send Rambo the final results, but the preliminary report is that these "are doable needs, very small things".
· Angela Rambo has e-mailed both Starbucks and Tully's to suggest that they consider opening a new location on the northwest corner of 16th and Roxbury. To date, Starbucks has acknowledged her email, but Tully's has not. Rambo hopes that others will echo that request to show these companies that there is strong community support.
The business portion of the meeting wrapped up around 7 p.m. with an invitation to stay afterward, socialize and have a bite to eat.
The White Center Community Safety Coalition generally meets on the 4th Thursday of each month, from 6 to 8 p.m., in the DSHS building at 9650 15th Ave SW in the second floor lobby. This meeting wrapped up their first year in this venue; they plan to reconvene there on January 27th.
You can follow any responses to this entry through the RSS 2.0 feed. Both comments and pings are currently closed.