South Park: 1 big sale down, 1,000 (or so) coming up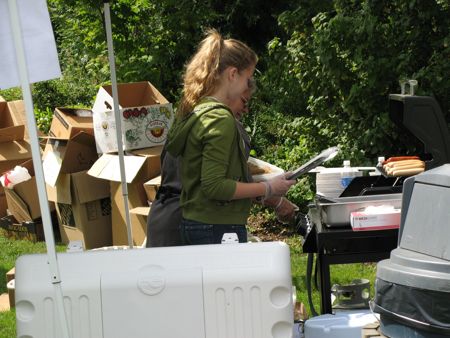 South Park was already known as a creative community before the loss of its main bridge access – and now its residents and community organizations are coming up with even more-memorable ways to entice visitors. For one, there was Saturday's community garage sale and barbecue at Duwamish Waterway Park – thanks to Gill for sharing photos, including kids creating crafts while musicians serenaded the park: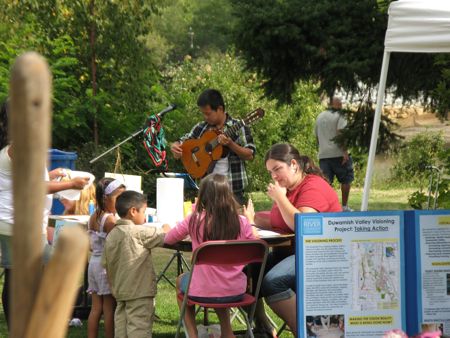 Kayaks beckoned visitors to explore the river: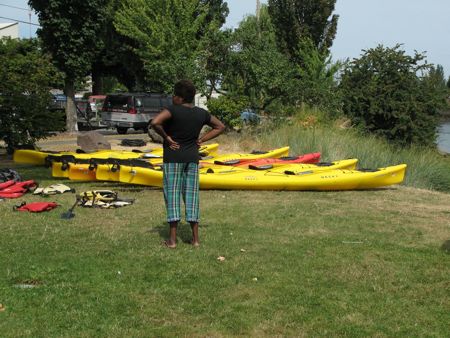 And now an even-bigger event is on tap for next weekend:
SOUTH PARK ON SALE! AUGUST 28, 1,000 HOME GARAGE, ALLEY, YARD SALE EXTRAVAGANZA KEEPS SOUTH PARK CONNECTED DURING BRIDGE CLOSURE

Since the closure of the South Park Bridge 20,000 cars a day no longer drive through the culturally rich neighborhood South of the Duwamish river alongside Boeing and sandwiched between I-5, 509 & 99. Overall, business is way down for its main street establishments.

In an effort to keep South Park connected to the rest of Seattle and help local residents economically, South Park resident Deborah Semer, owner of Atmosphere Artist Management and Co-founder of the national non-profit Operation Ward 57, is organizing a community wide-garage, yard & alley sale where outside vendors are welcome. "Every other home in South Park has a business, musician or artist creating wonderful things on top of collectors of various treasures." Resident, Alyssa Stevens, who owns an antique store in Georgetown Collectible Fruit, "has tons of stuff to sell!"

Semer says, "The challenge is to get people into South Park. We hope they stay here all day, exploring the nooks and crannies like our vibrant marina, creative micro-home businesses, brand new skateboard park, authentic Mexican food, fresh produce at our Market on Wheels and then enjoy a salsa dance party from Seattle's premier dance studio Salsa Con Todo and then, watch a free outdoor movie presented by South Park Outdoor Cinema. It's going to be a wild day!"

Other potential surprises could include a Zumba flash mob, the Dead Babies Bicycle Club, chair massage by Karina, Pirates, One Man Online band Tukso Okey from NY and well-known mural artist Kenji Fullmer.

Providence Regina House, which feeds & clothes residents will be open after the sale to accept donations. If you would like to purchase a table for only $10 to sell your items as an outside vendor call Juanita Rivera at (206) 235-5864.

The giant sale also includes the weekly Market on Wheels from 10am – 4pm at 14th & Cloverdale and the SP Outdoor Cinema presenting the movie "UP." Gates open at 8:30pm, movie at 9:30pm.

A map will be available around the neighborhood and at homes to help shoppers find their treasures.
Again, that's next Saturday.
You can follow any responses to this entry through the RSS 2.0 feed. Both comments and pings are currently closed.