Update: Cocoa the "old hound dog mix" is home
6:48 PM UPDATE: Got word from Cocoa's people, she's home. Glad to hear it.
EARLIER: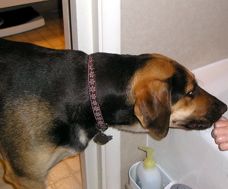 Cocoa's missing. Her people explain, "Any time she's ever sneaked out before, she's always come home! She is the best family dog and my kids are beside themselves. We've all had a horrible night." She's 3 years old and her people can be reached:
HOME: 206-767-2466
CELLS: 206-459-8979 & 206-459-9079
Cocoa lives near 28th SW/SW 116th (map).
Tags: lost dog
You can follow any responses to this entry through the RSS 2.0 feed. Both comments and pings are currently closed.