Helicopters, roadblocks in White Center: Burglary search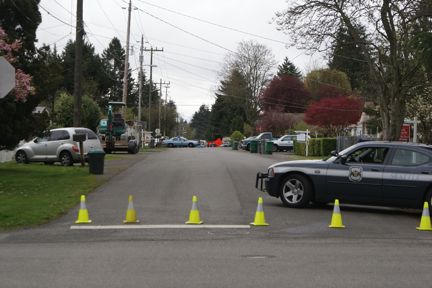 ORIGINAL 11:35 AM REPORT: We're at the scene of a big police operation in White Center – centered in the 10700 block of 18th SW. Law enforcement and TV helicopters are there too. This started as a call about a woman with a shotgun more than an hour ago. Seattle Police are assisting King County Sheriff's deputies in closing off roads around the area. More to come. 12:02 PM UPDATE: We've spoken at the scene with Sgt. John Urquhart from King County Sheriff's Office. He says the reported gun-toting woman person is one of three suspects they're seeking after residents came home to find a burglary in progress. The residents weren't hurt, but the burglars fled, and that's why there's been such an extensive search around the area. 12:59 PM UPDATE: Adding our video of Sgt. Urquhart's media briefing (complete with background noise from the chopper/s). He says one of the three suspects HAS been caught.
Tags: helicopters
You can follow any responses to this entry through the RSS 2.0 feed. Both comments and pings are currently closed.