Evergreen Pool to reopen this spring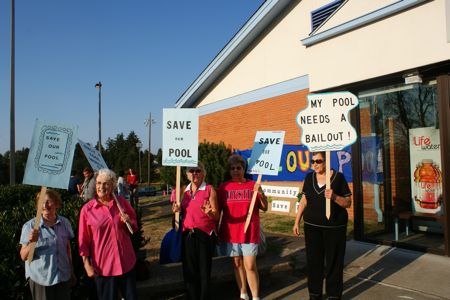 Almost seven months after that August 30th rally preceding the shutdown of Evergreen Pool, the official announcement just arrived in the inbox – there's a deal to reopen it "on or before May 1st." (The White Water Aquatics website says they're targeting April 12th, with a 5/1 "grand opening.") And it'll have a slightly changed name. Here's the news release:
Officials of White Water Aquatics Management, LLC, a not-for-profit subsidiary of an area swim team, today announce that they have reached an agreement to re-open Evergreen Community Aquatics Center (formerly Evergreen Pool) in White Center on or before May 1, 2010.

From the time King County closed the pool last summer, the parents of children who compete on the Whitewater Aquatics Swim Team have worked with The Highline School District and King County to develop an operating agreement. White Water Aquatics Management has developed a business plan to operate the pool with a full range of programming for diverse community needs, and has raised over $50,000 in private donations to get started.

"Swimming and water recreation offer lifelong health and safety benefits, and we are so pleased to be able to offer this programming to White Center and our community", said Ed Marrs, president of Whitewater Aquatics, and a professional firefighter. "We would like to thank The Highline School Board, King County, Dow Constantine and dozens of Whitewater Swim Team Families who all worked tirelessly to ensure that we could open this pool. Our unique public-private partnership is an example of how citizens can mobilize and assist government in challenging times," he continued.

With repairs underway, planning for a spring break scrub-and-paint marathon, lesson calendars and schedule planning in the works – as well an operating swim team preparing for several swim meets – , it's a "hectic time at The Evergreen Community Aquatic Center, but we are truly excited to embark on this new venture," said newly appointed pool manager, current WWA Head Coach Joel Schweiger. "We hope to release our calendar and start promoting spring swim lessons by April 5th." Schweiger, an accomplished competitive swimmer, has managed several pools in California and has over fourteen years coaching experience up to the highest levels of the sport.
The pool's at 606 SW 116th (map).
Tags: Evergreen Community Aquatics Center, Evergreen Pool
You can follow any responses to this entry through the RSS 2.0 feed. Both comments and pings are currently closed.