North Highline Unincorporated Area Council: Fire chief farewell, crime update, and more
Notes from last night's North Highline Unincorporated Area Council meeting: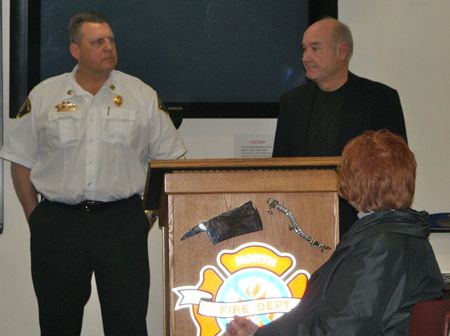 At left, that's North Highline Fire Chief Scott LaVielle, who briefed the group on his impending retirement in late February. He talked about the several steps taken to close the budget gaps that the fire district was faced with. He introduced North Highline Fire Commissioner Rob Spreier (with him in the photo), saying he will take over most of the high-level management work after he leaves. Other items:
CRIME: King County Sheriff's Deputy Jeff Hancock told the NHUAC it's been a rougher month than the area's seen in a while: 1 rape; 1 aggravated assault on a 19 month old girl; 2 stabbings; 6 robberies, all mini-marts or gas stations in the area, and one person robbed at gunpoint after being pulled into a car outside a grocery store;13 vehicle thefts, 14 drug arrests, 29 warrant arrests.
CODE ENFORCEMENT: A complicated discussion that took a lot of time without many conclusions – commercial activities on an industrial-zoned property along Myers Way that has nearby residents wondering if King County codes were being followed; the agency represented at the meeting said that it didn't have jurisdiction and offered the residents some suggestions on where else they might take their concerns.
NORTH HIGHLINE ANNEXATION DELAY: Burien City Manager Mike Martin and two Burien City Council members attended the meeting; Martin said the official annexation date has been delayed until April 1st because of the Puget Sound Park wrangling (see our report from earlier this week); he says several other things still need to happen for the annexation to be finalized. Regarding the park's future, Martin told NHUAC, whatever happens to the park has to happen because the people of the city of Burien want it. If they want a library there, then that could happen, but he said a decision would not be forced on them. He also said he wanted to dispel the notion that Burien just wants the park in order to sell it.
REMEMBERING CHERISSE LUXA: In the public-comment period Liz Giba mentioned the community activist who lost her cancer fight last month would be remembered during a memorial gathering at Mick Kelly's Irish Pub on January 27th, 7 pm, with a "semi-formal presentation" around 7:45.
The North Highline Unincorporated Area Council meets the first Thursday of each month, 7 pm, North Highline Fire District HQ.
Tags: North Highline Fire District, North Highline Unincorporated Area Council
You can follow any responses to this entry through the RSS 2.0 feed. Both comments and pings are currently closed.