New Greenbridge coffee shop will open this weekend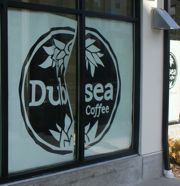 You've probably noticed the signs in the window in recent months – now it's time to open the doors. It's grand opening weekend this Saturday and Sunday for Dubsea Coffee in Greenbridge. We had the pleasure of meeting its proprietor Sibelle earlier this year; she plans for her coffee shop to be not just a place to get espresso, but also a place to enjoy local art — with a local artist serving as Dubsea's curator — and a place for youth to gather in a safe space. Dubsea is just a few doors down from the Greenbridge Y/Library complex, at 9910 8th SW. According to the Dubsea website and invitations that have been sent out, the shop will be open 7 am to 7 pm as it swings open its doors on Saturday. ADDED THURSDAY NIGHT: Commenters wondered, and Dubsea responded – Stumptown is the coffee they'll be using. See you there!
Tags: Dubsea Coffee, Greenbridge
You can follow any responses to this entry through the RSS 2.0 feed. Both comments and pings are currently closed.