Election 2009: North Highline South Annexation vote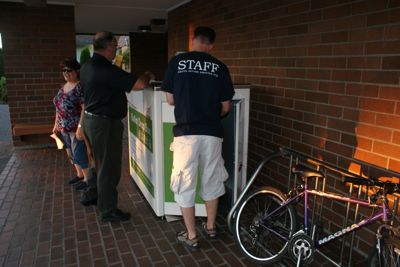 (ballot box getting locked at White Center Library at 8 pm)
Results here.
First ballot run just after 8 pm – 59 percent for annexation, 41 percent against.

9 PM UPDATE: Another race of huge interest to White Center – King County Executive. We are covering it for partner site West Seattle Blog, and I'm at Dow Constantine's party at Pike Place. He gave a stirring speech – since it appears he is making it to the general election, since he is in 2nd, relatively far ahead of 3rd place runner Fred Jarrett – and he said, "We must keep King County Parks open." Here's the first minute of his speech at Kells Irish Pub, around 8:40 pm:
Tags: North Highline South Annexation
You can follow any responses to this entry through the RSS 2.0 feed. Both comments and pings are currently closed.