Fish among the flowers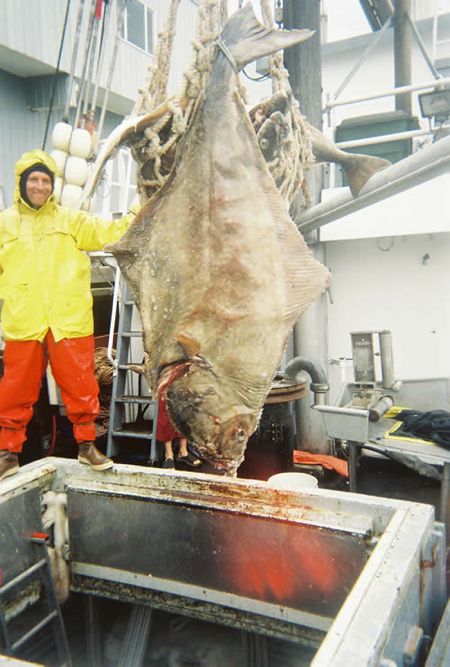 Now you can say you've seen a 200-pound halibut. Posing with it, Seattle-based fisherman Bill Curtin, husband of Village Green Perennial Nursery proprietor Vera Johnson. He's back home from fishing in Alaska, and Village Green is selling some of the catch – plus inviting you to a halibut barbecue next month. They're also selling red snapper (rockfish) – we stopped by for some today and followed Bill down to the basement freezer: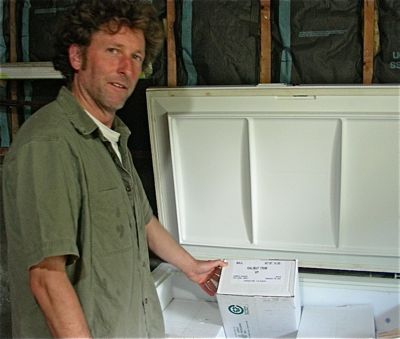 More of the story, just ahead:
Bill owns the M/V Alrita with several partners: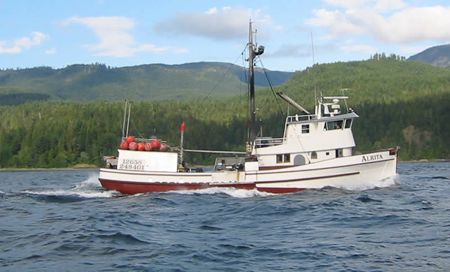 They're just back from Alaska, earlier this month, and now the Alrita is at Fisherman's Terminal. (Not only is it based in Seattle, it was built here.) You can buy fish during Village Green's opening hours Thursdays-Sundays (listed below), and you can make plans now to be there for the halibut barbecue, with entertainment, noon-3 pm September 13th at the nursery. Here's how Vera described it to the Village Green e-mail list:
Join us for fresh Halibut sandwiches from the 2008 Alaska fishing trip. This is the 4th annual BBQ, & we will be celebrating our 5th year here at the nursery! YES- we have been here for 5 years! $5 for beans, bun, beverage and the band. We will have Halibut for sale for $14.00 lb. It will be frozen in 1 lb. packages.

We are happy to have live music from The 'Atlas String Band': Old time mountain music with lyrics about heartbreak, liquor, God, guns, and some songs with no words at all, so you can just kick up your heels and dance. Music is Free, tips are appreciated. Great for all ages.

The 'Atlas String Band' is: David Parker, mandolin; Tom Collicot, guitar and vocals; Carmen Ficarra, bass; Paul Tolo, fiddle; Morgan John, banjo and vocals.

Village Green Perennial Nursery
10223 26th Ave SW
Seattle, WA 98146
206-767-7735
Thurs./ Fri 12-7
Sat/Sun 10-4:30
P.S. I'm a big fan of disclosure, so I should note that Village Green — which provided the first and third photos in this post — is an advertiser on the website my husband and I own, West Seattle Blog. We also are customers going back a few years; a beautiful honeysuckle we bought from the nursery about three years ago is a huge hit with the hummingbirds in our front yard – the great thing about perennials, Village Green's specialty, is that once they're established, you don't have to put in a lot of effort – they just keep on keepin' on.
Tags: fishing, village green perennial nursery
You can follow any responses to this entry through the RSS 2.0 feed. Both comments and pings are currently closed.