County offers help for unincorporated-area small businesses affected by pandemic
Applications are open for a King County program to help small-business owners in unincorporated areas including North Highline. From the announcement:
As part of King County's initiative to help our region recover from the pandemic, the King County Council has dedicated $4.5 million to help small business owners in unincorporated areas.

The application period opened Wednesday, July 7 and closes Wednesday, Aug. 4. Small business owners can apply online at kingcounty.gov/localbusinesshelp or by calling 206-477-3800 beginning today.

King County Local Services will administer this new grant program, which is open to businesses with 30 or fewer employees and $3 million or less in annual gross income.

Owners who receive grants will be reimbursed for business-related expenses incurred since March 3, 2021. Reimbursable expenses include rent, payroll, business utilities, goods and services, and COVID-19 accommodation costs.

This program is specifically intended to help small businesses, as was the county's first round of grants offered last year. Through that earlier program, more than 571 businesses received or are in the process of receiving up to $5,000 each from King County Local Services, for a total of nearly $3 million.
In 9 languages: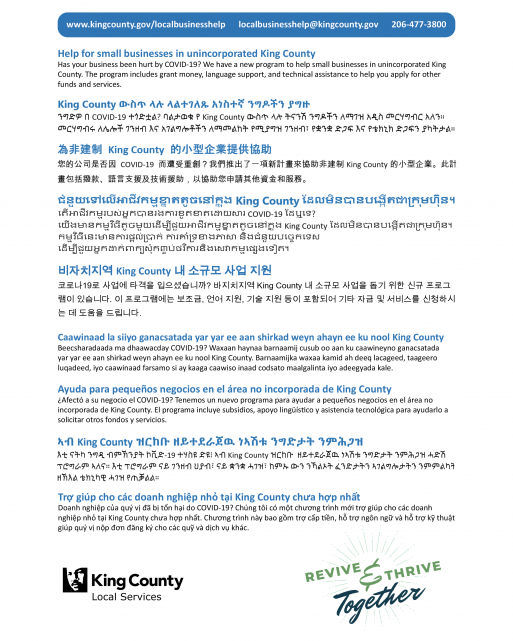 You can follow any responses to this entry through the RSS 2.0 feed. Both comments and pings are currently closed.