Here's what happened at the North Highline Unincorporated Area Council's last meeting before summer break
Apologies for the delay in this month's report!
June 3's online meeting of the North Highline Unincorporated Area Council was the last before NHUAC's summer break.
Here's what happened:
DRUG-FREE YOUTH: Marissa Jauregui from the Coalition of Drug-Free Youth in White Center/North Highline reviewed what the program's been working on. She's been the coordinator for almost a year. The coalition has more than a dozen organizations as partners. "About this pandemic year," Jauregui said, challenges were many but accomplishments were made all the same. A community survey revealed drug and alcohol use are seen as a big problem: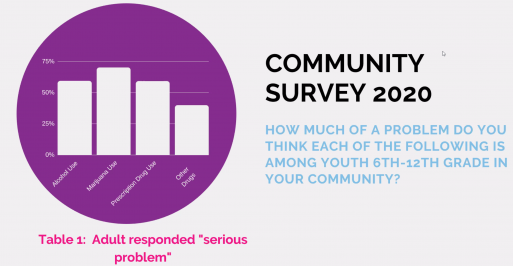 Here's how they've tackled the problem this year: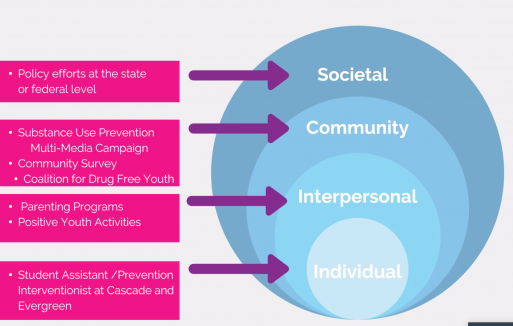 They ran YouTube ads, distributed health kits, and offered community training. Other activities have included park cleanups and club meetings at Evergreen High School. For younger students, they've done life-skills training for about 100 seventh- and eighth-graders at Cascade Middle School, to decrease the risks associated with peers' drug and alcohol use. And they've offered parent training, including classes in Spanish and Somali.
ROADS FUNDING: Department of Local Services deputy director Danielle de Clercq talked about the Roads levy-lid lift. Funding isn't keeping up with need, she said.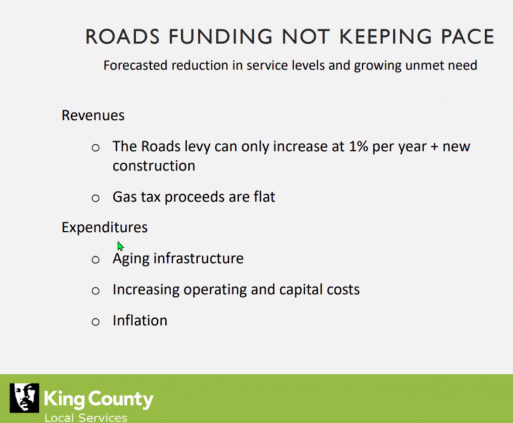 Here's what they're looking at sending to voters in November: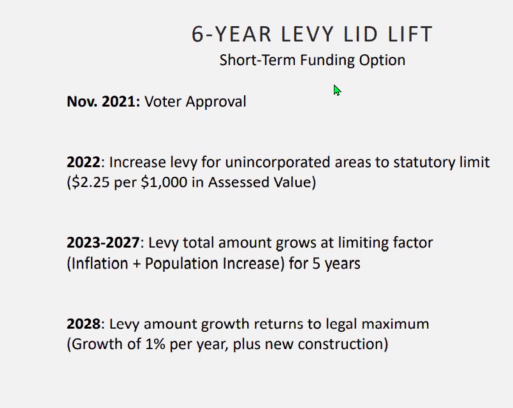 Here's some of the ways they propose to spend the money: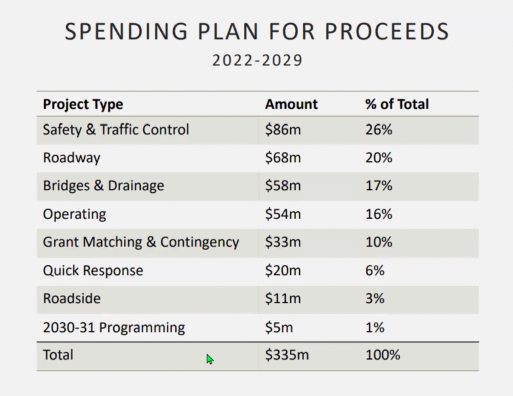 The proposal was going to the County Council.
GREENBRIDGE UPDATE: The work on Division 8 has had permits for years, but work is just starting now. That's the reason for the tree removal some are noticing. They will be replaced, and the project area will have "parklets," Mark Rowe from the county said. This area is the "market-rate housing" part of the project, which previously focused on affordable housing.
17TH SW/SW 100TH: NHUAC also had asked for an update on this project. Land-use planner Christy Vogler and builder Joe Haberzedle joined the meeting to answer questions. This is a plan for 9 townhouse units in two buildings, replacing a parking lot, and they'll be rented out. The project did not require an environmental review, said Vogler; it's relatively small. No community notice was required because this includes fewer than 20 units. The builder said they focus on "mainly small in-fill development projects" but this one is unique as they'll retain ownership. They're going to be 4-bedroom units, some with 2-car garages, some with 1-car garages. They'll share a driveway off 17th.
Nearby residents asked why there's no sign on the property about the upcoming project; Vogler said there should be and promised to get a land-use inspector on the case. A side discussion then broke out regarding safety at a nearby intersection; Local Services said that would have to be taken up with Roads.
Next step at the site is foundation-pouring, as well as excavation for the second building, Haberzetle said.
KING COUNTY PARKS VOLUNTEER PROGRAM: Lina Rose brought a quick overview as well as information about the new Youth Conservation Corps and more. Service learning is big for Parks, and in past years, they've worked with about 10,000 volunteers – fewer since the pandemic, of course. Here are toplines about the new YCC, a paid internship program that'll be part virtual, part in-person: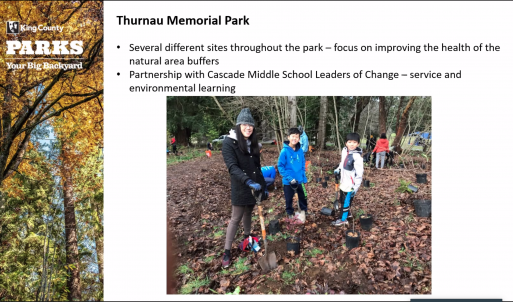 She said they have "completely amazing candidates" whose applications are being reviewed right now. She then showed the White Center=area parks where work is under way now, including: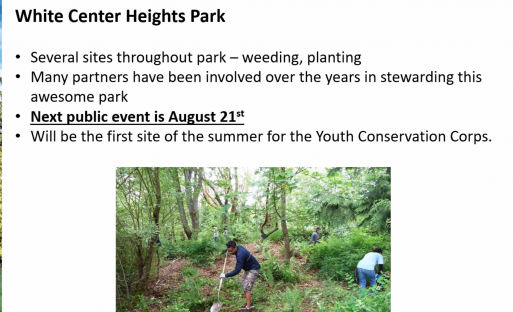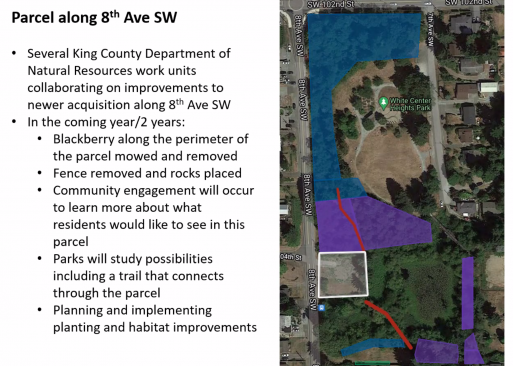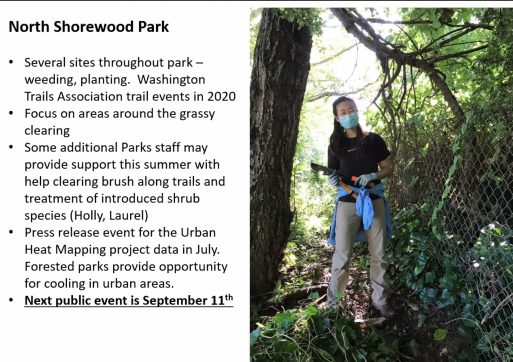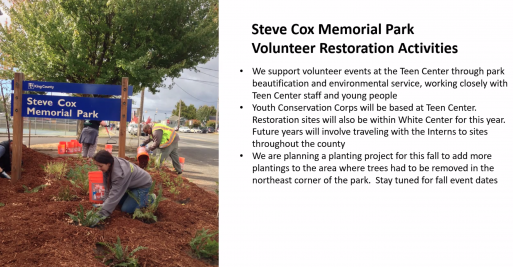 And here's how to get involved: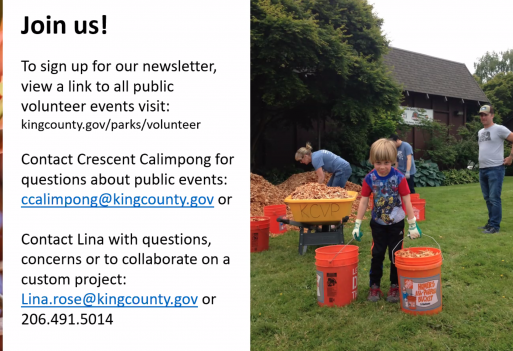 TEEN PROGRAM: Darlene Sellars talked about this 30-year-old program that helps teens with a variety of skills.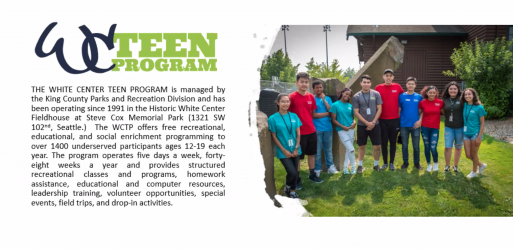 It's based at Steve Cox Memorial Park and has fitness, academic, volunteer, and other types of programs. They had 50 distribution events for food, pet food,and PPE. They also had a delivery program. There's even a YouTube studio from which teens have produced more than 100 videos. They also started a postcard-writing program and are happy to send postcards to anyone. 40 staff work with them – 35 are past program participants – and they've served tens of thousands. There are volunteer opportunities for teens coming up, too. The bicycle club is new and engages in service programs as well as fun. They'll have a program on Night Out again this year, too.
SHERIFF'S OFFICE: Deputy Bill Kennamer said a carpet-cleaning business has moved into the former Northmart, and didn't have anything else to report – it was quiet at the time.
NEXT MEETING IN SEPTEMBER: Watch here and nhuac.org for the announcement when it gets closer.
You can follow any responses to this entry through the RSS 2.0 feed. Both comments and pings are currently closed.