WHITE CENTER BIZNOTES: Bizzarro Italian Café; Bloom Bistro; Boombox
Three White Center food-and-drink notes, and they all begin with B: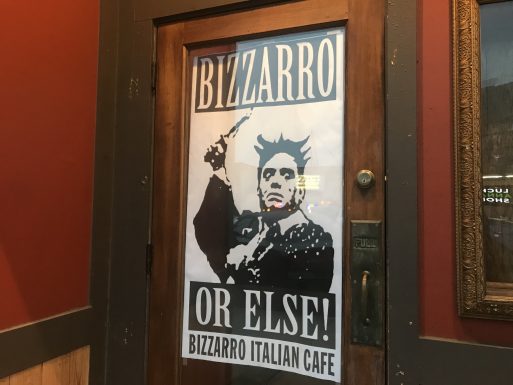 (WCN photo)
BIZZARRO ITALIAN CAFE: Thanks to Chris for the tip. This Wallingford restaurant is expanding to White Center, taking over the ex-Noble Barton space at 9635 16th SW. The announcement didn't have a projected opening date, but we have a message out to ask. (Here's the Bizzarro menu.) ADDED TUESDAY: Bizzarro responded to our inquiry:
Yes, Bizzarro Italian Cafe is coming to White Center and we could not be more excited. We have been serving the good people of Wallingford since 1986 and have been pining to come south for quite a while. Hopefully we will start delivery and take-out for our fresh made pasta dishes by the end of November and come spring time, after we add some comfort and funkiness to the space, we should start opening up for dine-in. Ultimately, Bizzarro is a neighborhood joint and White Center is a vibrant and exciting Neighborhood to be a part of. We want to create a space that is comfortable for families to celebrate in, first dates to occur, or just a place to swing by and grab some great food in a relaxed setting. People have been asking if our menu will be the same. Yes, Elk Bolognese, The Forest Floor Frenzy and all the favorites are coming with us. Plus some new special offerings in the bar to share.
BLOOM BISTRO: While checking on the future Bizzarro, we noticed the sign for Bloom Bistro was down at 9602 16th SW. They've indeed permanently closed after just 3 1/2 months in business, announcing:
Unfortunately, the time has come for our little dream to end. … We are not backed by a large corporation, trust fund or big GoFundMe project and between the global pandemic, which doesn't seem to be getting better, the situation with our electrical box being tampered with and not being able to collect any insurance money for the incident, and having to close for a week due to poisonous chemicals in the air, the odds were stacked against us being successful. We are just two girls with a passion for fresh food and a love for this community and unfortunately, things were just not busy enough to maintain paying the bills. We have so much love and appreciation for every single one of our customers, farmers, butchers, coffee roasters, friends, family, and supporters. This truly breaks our hearts.
BOOMBOX BAR: A few doors down, a new incarnation is on the way for the ex-Swallow space at 9608 16th SW – Boombox Bar. No details yet – we'll update when we get them!
You can follow any responses to this entry through the RSS 2.0 feed. Both comments and pings are currently closed.